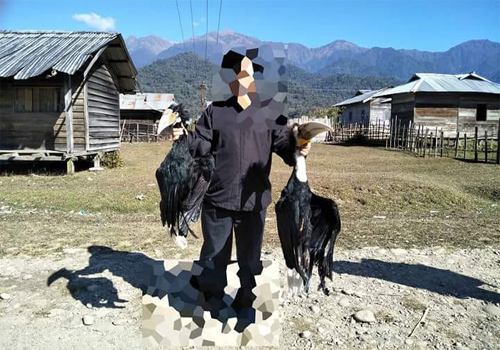 [ Pisi Zauing ]
MIAO, Aug 24: Some IRBn personnel based at Diyun and Manabum in Changlang district are actively involved in unabated poaching in the jungles of N'hkumsang area, on the right bank of the Noa-Dehing river in Miao circle, and in the buffer zone of the Namdapha National Park.
Until a couple of years ago, there was a large presence of hoolock gibbons in the jungles of Pisi, Khamuk, Lewang, Phup, and Khagam villages under the Miao administrative circle; but with the continuous and mindless hunting perpetrated by some IRBn personnel of Diyun and Manabum, the echoing voice of these apes are nowhere to be heard anymore.
Taking to this correspondent, Walagam Singpho of Lewang village informed that, following public complaints and media reports, the Miao administration and the authority at the IRBn headquarters in Diyun had warned the personnel in the past to mend their ways.
"After the warning, the poaching activity was suspended for a few months, but at this point of time they are crossing all limits," Singpho said, adding that whenever villagers try to stop them, the villagers are warned of dire consequences.
Another villager, Ligumgam Singpho, urged the Diyun and Miao administrations, as well as the IRBn office in Diyun, to take prompt steps to spare the remaining wildlife.
Gojudu Singpho of Pisi village, who knows the village jungles well, said the people of these villages, known for coexisting peacefully with the wild lives for centuries now, are left with nothing because of unabated hunting by the IRBn perpetrators.
The IRBn personnel are also involved in large-scale fishing in all the streams that flow in the N'hkumsang area. Reportedly, they come for hunting and fishing with sophisticated weapons and dreaded insecticides.
With the Namdapha National Park management in deep slumber, the wildlife in the buffer zones is being killed openly, and the park management is well-acquainted with the fact. The poachers also venture into the deep jungles of the national park and hunt without an iota of fear.
Many hunters, comprising government employees and general public, openly kill wildlife in the surrounding Miao township but no action has ever been taken.
The large-scale killing of hornbill, the state bird, in Vijaynagar circle is no secret. The Namdapha National Park management and the state government must protect the national park at all costs by adopting strong measures.