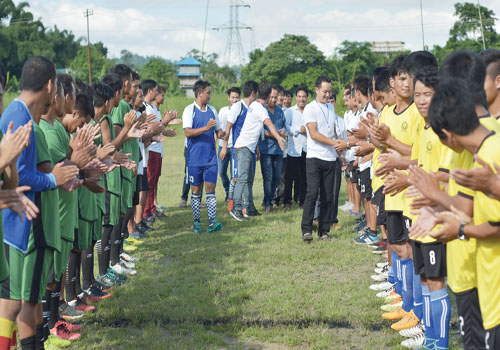 JOLLANG, Aug 27: The first Immanuel Football Tournament (IFT)-2018 organised by the Arunachal Pradesh Christian Revival Church Council-Youth Wing (APCRCCYW) began at Jollang (Dath) general ground on 25 August.
The inaugural match was played between Gibborim FC (CRC Akashdeep) and CRC Banderdewa team. The match was won by CRC Banderdewa 5-4 via penalty shootout. The match went to a tie-breaker after both the teams were tied 1-1 in the regulation time.
The teams from CRC Itanagar and CRC, Naharlagun, also won their respective matches in the knockout stage.
Sixteen teams representing as many Christian Revival churches in and around the capital complex are participating in the tournament.
The tournament started with a friendly exhibition match between the organising committee team and CRC Doimukh youth team.
The tournament was kicked off by the PHQ Bn APPH Executive Engineer Tomge Ado, in the presence social activist Hano Jokhio and soccer lovers from more than 26 Christian Revival churches in and around the capital complex.
Both Ado and Jokhio advised the players to maintain discipline both on and off the field.
APCRCCYW president Tarba Japan, general secretary Pei Lalley Camder, and organising committee members Bamang Tadang and Higio Makhia also spoke.
The inaugural programme was witnessed by, among others, RGU Joint Registrar Dr David Pertin, DRCS Gyati Kobing, PPDCRCC general secretary Jikke Tami Tachang, church pastors, leaders, public leaders and members of various churches.