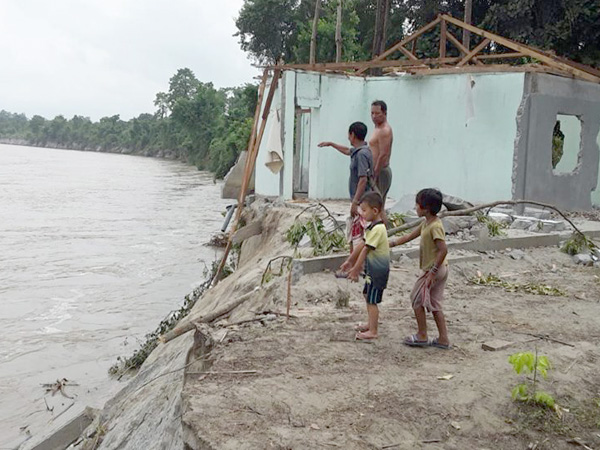 PASIGHAT, Aug 29: Following heavy rain across the border, the East Siang District Administration has cautioned the public to refrain from venturing into Siang River for Fishing, swimming and other activities to avoid any eventualities.
In a message, the East Siang DA said that as per report received from Chinese Government relayed to India, due to heavy rainfall in Chinese portion, the Tsangpo River is swelling with observed discharge of 9020 cumecon Wednesday at 8 AM at various locations.
The Central Water Commission (CWC), reported that the discharge of Tsangpo on August 14 was 8070 cumec. The incremental discharge should not inflict severe damages and as such should not panic, the administration said.
Further, people living in low lying areas on right bank and left bank Siang River including Jarku, Paglek, SS Mission, Jarkong, Banskota, Berung, Sigar, Borguli, Seram, Kongkul, Namsing, Mer have been advised to remain alert.
The administration had issued a similiar advisory on Aug 20.
It said that citizens should remain alert but there is no reason to panic.
Villages of Mebo circle face erosion & flood threats
Our Pasighat Corespondent adds that unusual waves in the Siang River have caused massive erosion in Borguli and Serum areas of Mebo subdivision under East Siang district recently.
Reportedly, the high tides near the confluence of Siang and Sibiya rivers is constantly eroding the riverine grassland and plantation sites, posing threat to wet rice cultivation at Borguli and Serum.
The villagers informed that surging water of the Siang River submerges cultivation sites at Namsing and Mer-Gadum areas in Lower Mebo every year.
"The constant erosion and recurring flood by the rivers is adversely affecting the rural economy of the area but the government has not initiated effective measure to mitigate the situation", they alleged.
"Our villagers are helplessly observing the natural catastrophe like flood and erosion for the last few years, but no effective anti-erosion measures have been initiated so far. The Siang River, which is witnessing unusual tides, has eroded over 10 acres of grassland and plantation at Borguli. It has also eroded human habitation at Serum village," said Horinath Tayeng, a public leader of Borguli on Wednesday evening.
Tayeng informed that at least 10 families of Serum village have already been shifted to a safer location due to erosion.
On the other hand, the drought-hit farmers have demanded that the state government assess the loss and grant special relief package, besides providing an alternative cultivation solution.