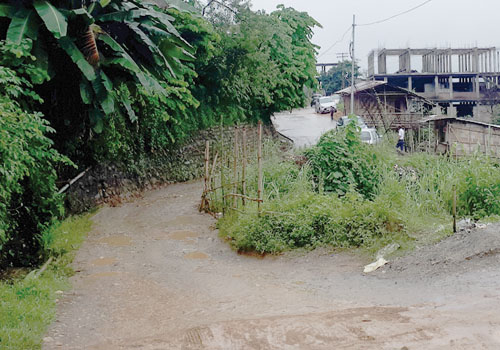 ITANAGAR, Aug 29: The locals of ESS Sector here have appealed to the capital district administration and PWD to immediately repair the culvert which was washed away three years back due to incessant rainfall.
The culvert located near the tri junction here at ESS Sector is part of an important arterial road which connects Raj Bhawan, Circuit House, DDK, to NH 415.
The locals alleged that even though the road is regularly used by the chief minister, ministers, officers, etc, no one is taking an initiative to repair the culvert.
During the peak hours, the road is used as an alternative road by the commuters and its pathetic condition is causing immense trouble to the citizens of Itanagar.
Meanwhile, Deputy Commissioner Capital Complex Prince Dhawan informed that the culvert and portion of roads on one side has been washed away and sufficient fund is required for renovation and reconstruction.
"A proposal, which was prepared by the PWD, has been sent to the state government for inclusion under SIDF and we are waiting for the approval for construction work to begin", the DC added.
At present, a bamboo barricade along with warning signboard has been erected on both sides of the damaged point for safety of the commuters. The passing of heavy vehicle have been banned and a traffic warden has placed to regulate traffic at the site, the DC added.
When contacted, PWD Capital Division B Executive Engineer Tarh Gongkap said that "ESS sector tri junction road is on the verge of collapse as a large portion of it has been washed away and it is hanging like a cliff".
"The soil and other binding materials have also been washed away. It may collapse any time if the heavy rain occurs and if heavy vehicles continue to ply", he added.
Executive Engineer Tarh Gongkap informed that recently he was summoned by Deputy Chief Minister Chowna Mein who showed concern regarding the condition of the said portion of road.
An estimate for construction and restoration of structure at critical point near ESS Sector Tri junction, amounting to RS 381 lakhs has been submitted to the state government, the EE added.