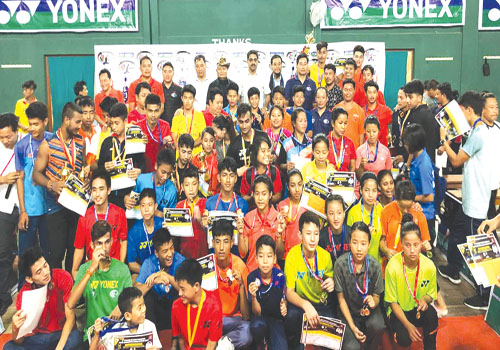 'Arunachal Premier Badminton League from next year'
TEZU, Aug 31: Laa Talar retained the men's singles title in the Dorjee Khandu Memorial State Badminton Championship.
Talar defeated his rival Akshay Raito in straight 21-13, 21-12 sets. With this win, he continues to remain atop the state rankings in the men's singles badminton for the sixth consecutive time.
Pinky Karki also retained her women's singles title, defeating Laa Yajum in 2-1 sets (17-21 21-11 21-18).
Karki is currently ranked 23 in the national women's doubles ranking. Her doubles partner is Taring Yania.
In the men's doubles open category, Biki Lakhai and Akshay Raito won the men's title, beating the pair of Laa Talar and Jokom Rebia.
The women's doubles title was won by the pair of Pinky Karki and Taring Yania. They beat Laa Yajum and Apali Mega 21-8 and 21-9.
Yumlap Mopi defeated Kapu Rumi to win the girls' U-19 title, which helped her regain the number one rank.
Talar's younger brother Laa Tukum won the boys' U-17 and U-19 singles titles.
Tukum beat Kirto Nyorak 21-16 21-13 in the boys' U-17, and Sonam Tamang 21-13 21-9 in the boys' U-19 singles events.
The girls' U-17 singles title was won by Dolma Tamang, defeating Ingam Potom 21-6 21-13.
Kenjom Tacha pairing with Raj Thapa defeated Asif Khan and Raja Gupta 21-15 28-26 to win the boys' U-19 doubles title.
The boys U-17 doubles title was won by Kirto Nyorak and Raj Thapa, beating the pair of Dekam Yomgam and Megi Riram of West Siang 21-16 21-15.
Nikhil Chetry and Dolma Tamang won the boys' and girls' U-15 singles titles, respectively.
While Nikhil Chetry beat Laa Robin 19-21 21-13 21-11, Dolma defeated Kenbi Riram in straight 21-13 21-11 sets.
The boys' U-15 doubles title was won by Lobsang Chouidup and Suraj Chetry of Tawang. They defeated the pair of Kipa Peter and Rakju Rigia of Kurung Kumey District Badminton Association 21-11 21-13.
Laa Robin and Montilly Pul clinched the boys' and girls' U-13 singles titles.
Robin defeated Pakli Bagra 23-25 21-13 21-9, and Pul beat Taku Neha 21-13 15-21 21-17.
The boys' U-13 doubles title went to Lobsang Chouidup and Suraj Chetry of Tawang. They defeated Nima Dorjee and Pakli Bagra 21-12 19-21 21-16 in the final.
The girls' doubles title in this category was won by Napi Tayam and Taku Neha. They defeated the pair of Bishaka Kocho and Sania Ronrang of Changlang District Badminton Association 18-21 22-20 21-12.
The closing and prize distribution ceremony was held at the Kalikho Pul Memorial Indoor Badminton Stadium here on Friday.
Badminton Association of India (BAI) secretary (event) Omar Rashid, who attended the closing function, said India is now a dominant force in world's badminton.
"A lot of players are emerging from the country and they are playing very good", he said, adding that Arunachal has huge potential for developing world-class players.
The BAI official appreciated Chief Minister Pema Khandu and Sports & Youth Affairs Minister Dr Mohesh Chai for taking personal initiatives for overall development of sports in the state.
Dr Mohesh Chai said the BAI official's presence motivated the budding players in the field of sports and games, particularly badminton.
The minister reiterated his commitment to promote sports across the state and produce the best of players by enabling them to compete in national and international events.
In today's world, sports have emerged as a multi-billion-dollar global industry, he said.
"Indian Super League, Premier Badminton League, IPL, Pro Kabaddi League, etc, have proved to be huge revenue generators of the governing bodies like BCCI, as well as players, with billions of money involved in broadcasting rights, merchandising, salaries, sponsorships and contracts, paving way for self-employment opportunities for the youths," he said.
Arunachal State Badminton Association (ASBA) president Ratu Techi announced that "the Arunachal Premier Badminton League will kick off next year."
He thanked the Lohit district administration, police, and heads of departments along with the public for extending supports in conducting the badminton tournament smoothly.
Congratulating the winners, ASBA Sports Authority of Arunachal Chairman Bamang Tago said the championship was organized outside the capital complex for the first time this year. He expressed hope that other district organizations affiliated to the ASBA would also contest to host this state-sponsored badminton event in the days to come.
The tournament witnessed overwhelming response from the public in general, and lovers of badminton enjoyed the multiple actions of various top-seeded players of the state.