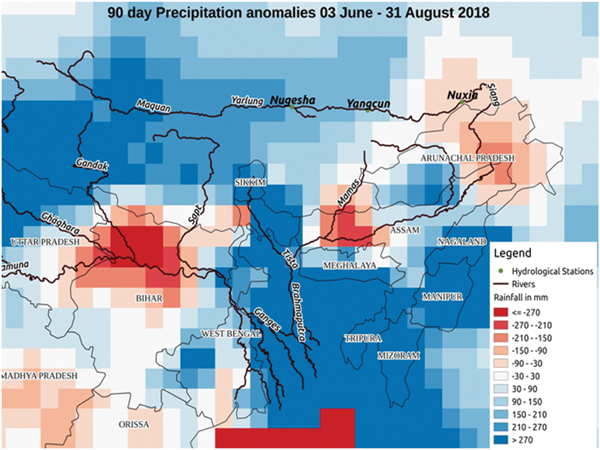 [ Chintan Sheth & Anirban Datta-Roy ]
In November 2017 a series of earthquakes triggered large-scale landslides along the Yarlung-Tsangpo gorge in Tibet (50 km upstream of Gelling). The landslides partially blocked river flow and phenomenally increased the sediment load of the Siang river. Rough estimates placed the volume of one landslide-induced dam at 19 million cubic metres – a potentially hazardous flood volume.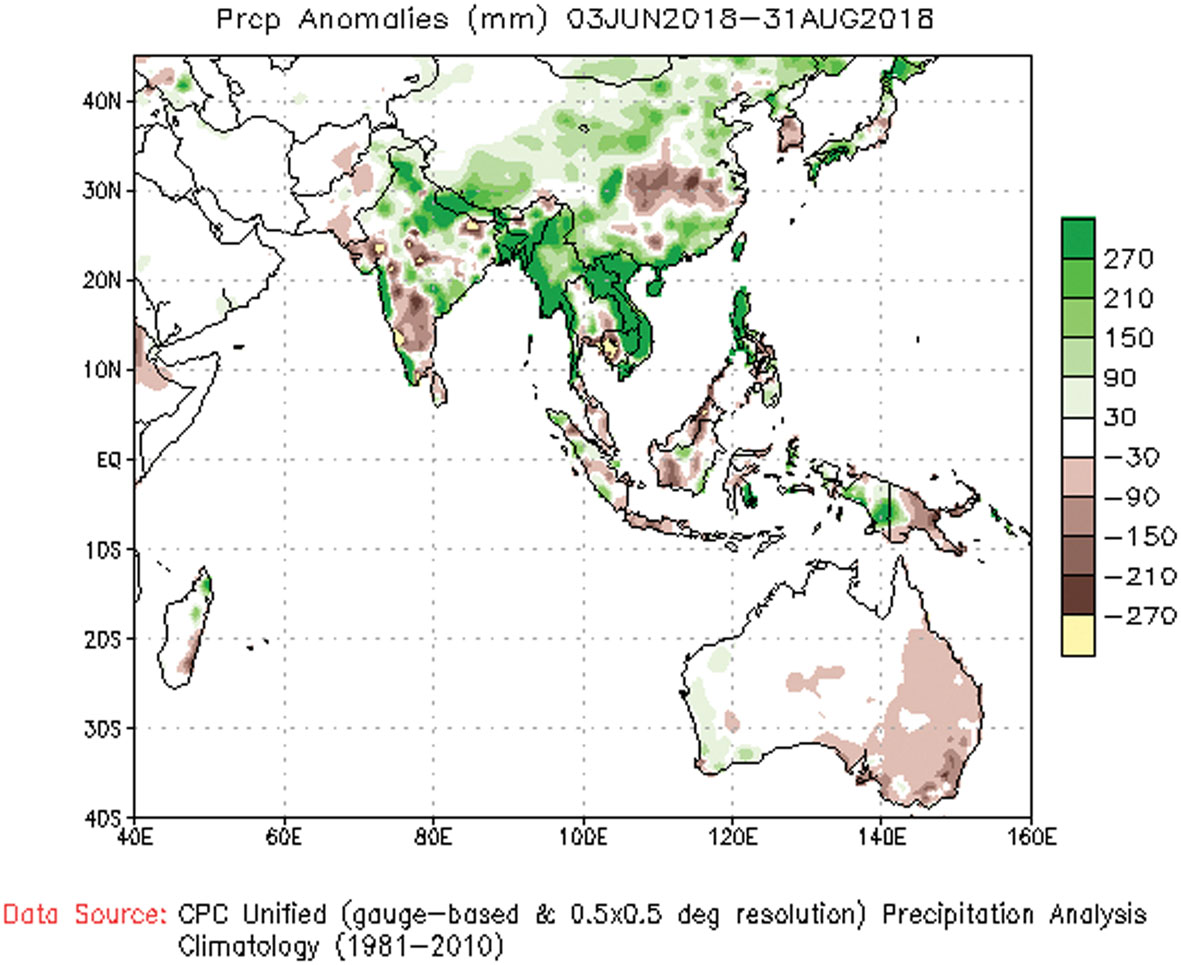 Between 15 and 17 July, 2018, the blockages cleared, as revealed by radar images taken by Sentinel-1 (European Space Agency). It is unclear how the blockages were cleared, as we lack hydrological flow data. However, data from 3 June to 31 August, 2018 (provided by the National Oceanic and Atmospheric Administration (NOAA), USA, indicate that above-normal, anomalous rainfall occurred across the Yarlung-Tsangpo catchment area (varies from 3,761 to 49,739 kms). The consequent increase in stream-flow is likely to have cleared the blocks.
The ramifications of anomalously high rainfall in the Tibetan plateau were evident in the floodplains of Pasighat and other areas of East Siang district of Arunachal Pradesh. Several islands were partially or fully submerged between 16 July and 7 August, as gleaned from satellite images. The rising water level and unpredictable nature of the rise prompted the East Siang district administration to send out an initial advisory.
In 2013 India and China signed a memorandum of understanding, wherein China agreed to provide hydrological data every year from 15 May to 15 October (during the flood season). The data shared comes from three hydrological stations located on the Yarlung-Tsangpo: Nugesha, Yangcun, and Nuxia.
On 29 August the deputy commissioner of East Siang district issued a cautionary letter asking citizens to refrain from venturing into the Siang. The letter also stated that the Central Water Commission had received data from China indicating a discharge of 9000 m3 per second from one of the three stations. The discharge was also reported to be the highest in 50 years.
Radar images (Nugesha and Nuxia) were compared between August 2017, early June, late June, and 20-30 August. The interpretation of the water levels from radar images needs to be done with caution as we lack hydrological flow data.
Nevertheless, the levels of the Tsangpo are perhaps higher and/or more spread in August 2018 than in 2017. Water also seems to be increasing from early July to late August 2018, thus supporting the above-normal rainfall data.
Furthermore, Nugesha and Yangcun have already received the total long-term mean annual precipitation between March and August 2018 – a period of just 180 days.
The Chinese reports of extremely heavy rainfall is also borne out by independent rainfall data from the Tropical Rainfall Measuring Mission (TRMM) and the NOAA, among others, which shows above-normal anomalous rainfall patterns from June to August 2018. Efforts by China to increase rainfall in the Tibetan plateau through ground-based cloud seeding 'furnaces' was also announced in March 2018, although there is no evidence to indicate its role in the present context.
The sudden increase in the water levels of rivers originating from the Tibetan plateau is not a new occurrence, and as recently as 2016 the flooding of the Bhotekoshi river in Nepal due to landslide-induced dams on the Chinese side reiterated the dangers for downstream countries. The Siang flood of June 2000, caused due to the bursting of a landslide-induced debris dam, is all too fresh in the memory of the people of the Siang valley. Researchers have seen a rise in avalanches, bursting of landslide-dammed rivers, cracking of glaciers, and glacial lakes filling up.
A primary concern has been the glacial lake outburst flood, which is a consequence of receding glaciers and melting permafrost layers. Recent scientific studies have not only found a warming trend in the Tibetan plateau over the last century, climate change models have also projected increased warming in the future. This could lead to more potential natural disasters.
In the case of the current Siang floods, we still lack the data to say with certainty if the rising water levels are only due to increased rainfall or climate change-induced melting in the Tibetan plateau. Regardless of the exact reasons, increased water flow from the 'water towers of Asia' could potentially impact other major Himalayan rivers (Gandak, Kosi, Ghaghara, and Subansiri).
It is essential to set up fully functional early warning systems that provide regular information to affected downstream countries like Nepal, Bhutan, Bangladesh, and India.
The stranding of people, on 30 August, on an island in the Siang was unfortunate and may have been avoided if India and China were communicating better. Additionally, our own precautionary systems need to monitor rainfall patterns and hydrological and satellite data during the flood season, which are easily available with agencies like the TRMM, the NASA, the NOAA, and the ESA. (Chintan Sheth, chintz604@gmail.com, is with the National Centre for Biological Sciences, Bangalore, and Anirban Datta-Roy, primateroy@gmail.com, is with the Ashoka Trust for Research in Ecology and the Environment, Bangalore. The authors are keen watchers of the Siang river.)