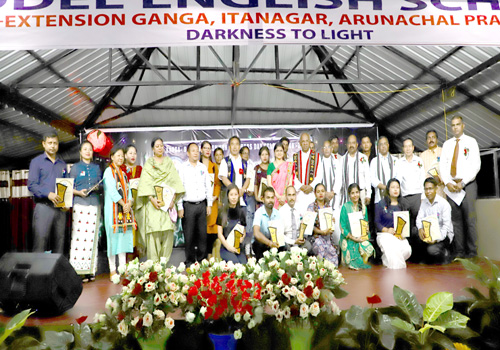 Respect and obey teachers: Ngandam
ITANAGAR, Sep 4: Education Minister Honchun Ngandam asked the student community to remove from their minds the concept that "Arunachalees are poor in mathematics and science" and work hard to become science and mathematics teachers.
"This will happen when science and mathematics teachers will come from among Arunachalee students themselves," the minister said during the AAPSA-Sahodaya Teachers' Day celebration at Model English School here on Monday.
Ngandam also acknowledged the role that his teachers played in his life.
"Whatever I am today is because of my teachers," he said, and urged the student community to respect and obey their teachers.
The minister congratulated the AAPSA for the work it is doing to enhance the education scenario of the state, and expressed the desire to include private school teachers in the Government Teachers' Awards.
Education Secretary Madhu Rani Teotia lauded the AAPSA for coming up with the idea of a combined Teachers' Day celebration, and for the concept of 'teacher of the year' award for private school teachers.
She recommended to the minister to include private school teachers in the Government Teachers' Awards, and expressed the willingness to sit with the AAPSA executive body to discuss matters of educational importance.
Itanagar bishop Rev Dr John Thomas also spoke.
Among others, Capital Complex DDSE Gollo Yam, Don Bosco College director Fr CC Jose, and Model English School founder chairman Bomyom Ronya attended the celebration.
Students from selected schools performed cultural items to honour the teachers.
In all, 231 teachers and a large number of students from various private schools of the capital complex, including Banderdewa and Doimukh, took part in the celebration.