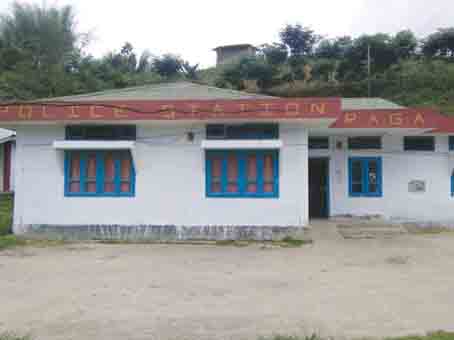 [Amar Sangno]
ITANAGAR, Sep 6: Development in Kamle district is seemingly dragging its feet, and so, it would appear, is the matter of law enforcement in the district.
Kamle, with a population of 22171 (as per the 2011 census), was created last year, after carving out parts of Lower Subansiri and Upper Subansiri districts. Ever since it became the 22nd district of the state on 18 October, 2017, developmental activities are trailing on all fronts.
Just prior to filing this report, sources in the police department informed The Arunachal Times that there were only 28 police personnel, including the superintendent of police (SP), in Kamle district, and it was yet to have a DSP and a paramilitary unit.
The police station in district headquarters Raga falls under Class C category. It currently has only two inspectors, two sub-inspectors, three ASIs, one head constable, 16 constables, and one lady constable.
Similarly, the Dollungmukh outpost, which was recently upgraded to a police station, has one SI, one special branch officer, two WT head constables, five constables, and one lady constable – a total of 10 personnel, the sources added.
The home department in its notification has categorized police stations into three categories: Class A for a district headquarters; Class B for an independent ADC headquarters with a minimum population of 8000; and Class C for a circle headquarters.
According to the notification, a Class 1 (A) police station has to have 90 personnel, including two inspectors, four sub-inspectors, two lady sub-inspectors, and a lady ASI. Similarly, an ADC headquarters has to have at least two sub-inspectors and 50 to 60 personnel, while a circle headquarters should be manned by at least 30 personnel, including an officer.
Generally, an SP office has its own establishment – known as SP reserve – to which personnel are attached. A reserve line, with a staff strength of 70 to 80 personnel, is headed by a reserve officer. Such is not the case at the SP office in Raga.
At the time of filing this report, it was learnt that 12 more constables and a DSP have been posted to Kamle, raising the total strength of the personnel to 38 for the entire district.
It is also learnt that Kamle has a history of sporadic violence occurring during elections. The district needs reinforcement of police force and deployment of more police personnel to keep the situation in order.