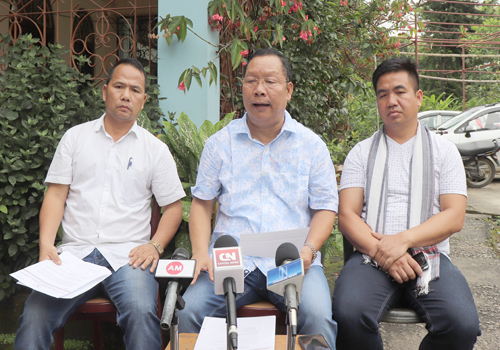 ITANAGAR, Sep 9: The Arunachal Pradesh Congress Committee (APCC) has appealed to the people of the state to support the 10-hour Congress-sponsored Bharat bandh in the state from 5 am to 3 pm on 10 September.
Briefing reporters here on Sunday, APCC president Takam Sanjoy said the bandh has been called to draw the attention of Prime Minister Narendra Modi and BJP president Amit Shah to the 'achhe din' slogan they had given to the people of the country, and to highlight that these 'achhe din' are yet to come.
"The value of the Indian currency is going down and the prices of petrol and diesel are going up. How can a middle class person afford such price hikes of essential commodities in the market, including fuel prices?
"The Indian currency is going down like never seen before. The price of crude oil has also gone down, but instead of bringing the price of fuel down, including that of cooking gas, the prices are increasing manifold. Where is the 'achhe din'?" Sanjoy questioned.
He appealed to all sections of society to support the nationwide bandh as a mark of protest, saying "the arbitrary hike in fuel prices and other subsidiary products will increase the prices of other commodities in the state and the region, and will have consequential effects on the economic condition of the public."
The Congress also asked the state government to act on the public call and deduct sales tax, VAT and other such taxes.
Ambulances, paramilitary forces, the press, police, milk vans, vehicles of magistrates, and emergency services are exempt from the purview of the bandh, as also the youths participating in the Subroto Cup tournament at Jullang.
Fuel price depends on various factors: BJP
Meanwhile, state BJP vice-president Tame Phassang also on Sunday appealed to the people of the state, specially the residents of Itanagar, to defy the bandh.
"Fuel price depends upon various factors, including global crude oil price. The state and the central governments have nothing to do with it," Phassang said, and described the Congress' agitation as "undemocratic."
The BJP leader slammed the APCC for creating "misunderstanding" among the people over the issue.