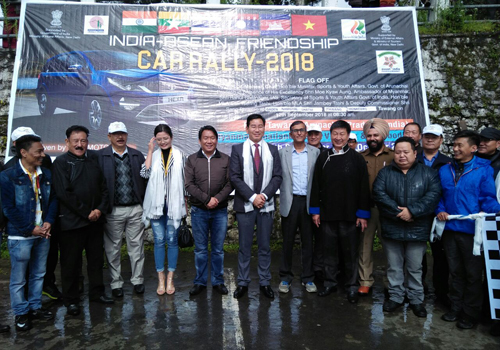 TAWANG, Sep 12: The Indo-ASEAN Friendship Car Rally was flagged off from Gaden Namgyal Lhatse Monastery here by Sports and Youth Affairs Minister Mohesh Chai on Wednesday.
The minister believed that the event would go a long way in further promoting Tawang as one of the most sought after tourism destinations in the coming days.
The rally will traverse through Myanmar, Thailand, Laos and Cambodia in 24 days with a mission to boost friendship and people-to-people contact, besides promoting trade and tourism by exploring the age-old linkages and connectivity between India and neighbouring ASEAN countries.
To join this historic rally, a team of 28 Thai delegates with 11 cars led by Rachan Trairat had arrived at Tawang on 9 September, 2018.
The Indian team consisting of 38 participants with three rotary members from Russia will drive 11 Indian cars sponsored by the Tata Motors for this event.
Doordarshan's sports channel is the media partner of the event. Indian Oil Corporation is fuelling the rally cars for a distance of 7000 plus km.
Back to back (B2B) meetings are being arranged at Vientiane on 21 September and Bangkok on 29 September by the sideline of the car rally to promote tourism of Arunachal Pradesh in the ASEAN countries, where the Indian delegates will meet and exchange their views and ideas with local entrepreneurs in Laos and Thailand.
The car rally is an initiative of the government of Arunachal Pradesh and supported by the Ministry of Tourism, Ministry of Youth Affairs and Sports and Ministry of External Affairs, and the Commercial Affairs of the Royal Thai Embassy in New Delhi.
International Friendship Car Rally Association, based in Arunachal Pradesh is the organizer of this historic event. (DIPRO, with inputs from president IFCRA).