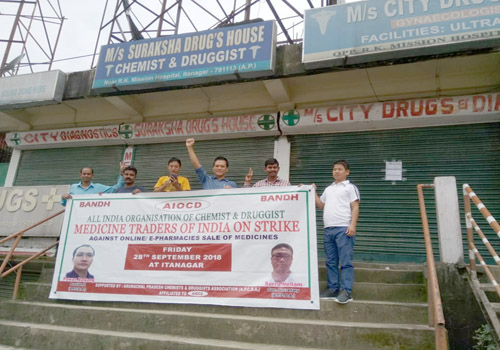 ITANAGAR, Sep 28: Chemists and druggists across the state took part in the nationwide strike announced by the All India Organisation of Chemists and Druggists against online sale of medicines.
Arunachal Pradesh Chemists & Druggists president Pawan Bagang said online sale of drugs without prescription from a doctor "is in some cases dangerous for health."
He said around 8.5 lakh pharmacies and chemists' shops across the country downed their shutters. There are around 1600 pharmacies in Arunachal, including around 500 pharmacies in the capital complex and Papum Pare districts, Bagang said.
"Online sale of medicines may seriously affect the health, especially of the young. It should be rolled back in the interest of the people's health, and in the greater interest of the chemists and druggists," he said.
The strike passed off peacefully.