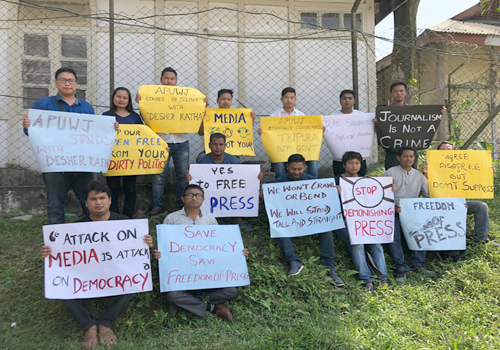 ITANAGAR, Oct 7: Members of the state's press fraternity on Sunday staged a dharna outside the Arunachal Press Club (APC) here to register their protest against the arbitrary cancellation of the Tripura-based daily Desher Katha's licence by the Registrar of Newspapers for India (RNI).
Established on 15 August, 1979, the Desher Katha is a well-established vernacular (Bangla) newspaper in Tripura backed by the Communist Party of India (Marxist). The daily's RNI licence cancellation is allegedly an act of political vendetta by the Bharatiya Janata Party (BJP) government in Tripura.
Members of the Desher Katha had earlier claimed that since the day the BJP government came to power in Tripura, constant efforts are being made to muzzle the daily, which is run by the CPI (M).
Sunday's dharna saw the participation of members of the Arunachal Pradesh Union of Working Journalists (APUWJ), the Arunachal Electronic Media Association (AEMA), and the APC.
Condemning the development, APUWJ President Amar Sangno said the cancellation of the RNI registration of the vernacular daily is "nothing but political vendetta by the BJP government in Tripura, and an attempt to weaken free press."
Expressing solidarity with the daily, the APUWJ president also demanded that the RNI immediately restore Desher Katha's licence, as well as the democratic spirit in the BJP-run Tripura.