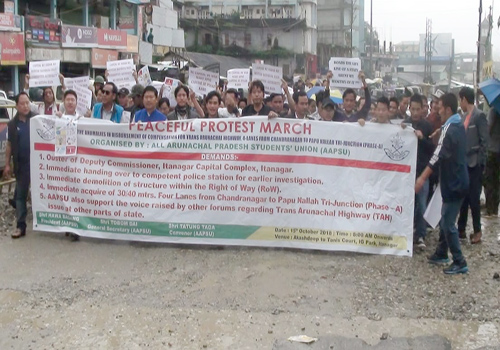 Staff Reporter
ITANAGAR, Oct 15: The All Arunachal Pradesh Students' Union (AAPSU) took out a rally of school and college students, here on Monday from Akashdeep to the IG Park, regarding what it calls the questionable construction of the Trans-Arunachal Highway (TAH) in State Capital.
AAPSU president Hawa Bagang said that the people were witness to the width of the four-lane highway, which he claimed was not according to the government norms
"Though the actual cutting of the breadth should be 30 meters, it is only 16-20 meter.
We demand that it be brought to at least 24 meters because space will be required in the future to erect electric posts, parking, etc…
"There has been huge corruption in the name of Agricultural, horticulture and forest in between the stretch from Chandranagar to Pappu Nallah, which does not exist in reality and all fake compensation should be returned back," Bagang further alleged.
He also informed that despite submitting memorandum to the state government, no action has been initiated.
While this daily could not reach the district administration for a statement on the allegations, it is learnt that the district administration has already conducted eviction as per strip plan and handed over land to the PWD Highways.
It is also learnt that out of Rs 42 crore, the DA has disbursed approximately Rs 15 crore till now (Details available online on DA website) and the remaining Rs 27 crore is still intact and has not yet been disbursed as work has not been tendered for packages B and C.
Further, in the wake of the allegation, the state cabinet has already approved for eviction drive to continue along the RoW of NH 415.
Accordingly, the DA is set to go for more evictions to remove all structures within RoW from 23rd October.