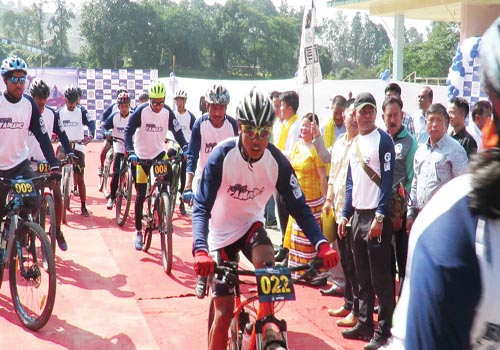 [ M Doley ]
ITANAGAR, Oct 22: The MTB Tawang Challenge 2018 – one of the highest bike races in the country – was flagged off from Indira Gandhi Park here on Monday morning by MLA Dasanglu Pul.
Rolling out from the heart of the city here, the team of 23 cyclists will ride across Papum Pare and East Kameng districts into picturesque Tawang district.
Divided into six stages, the race will pass through Itanagar, Sagalee, Seppa, Dadza, Dirang, Jang, and Sela Pass before reaching Tawang, covering a distance of 520 kms in six days.
The race will end coinciding with the Tawang Festival.
MTB Tawang is one of the toughest races in the Northeast as the riders would have to negotiate a 13,700 vertical ascent, and risk hairpin bends, switchbacks, and extreme weather conditions.
Sports & Youth Affairs Secretary Dani Salu, who was also present during the flagging-off ceremony, promised to put the event – a regular activity of the department of youth affairs – on the world's biking map.
"The government will do all the needful to make the people across the globe know about the event," he said, and informed that a similar bike race would be organized in the eastern part of the state.
MLA Mutchu Mithi spoke about the importance of games and sports, and urged the youths of the state make careers out of them.
Mithi Jr, who is also the president of the Arunachal Cycling Association, assured all possible help for popularizing and promotion cycling in the state.
Youth Affairs Director DK Dinglow highlighted the event's details.
"The race aims to explore a new route for biking and promote cycling in the state," said Youth Affairs Joint Director Ramesh Linggi.
Besides the host state, riders from Manipur, Nagaland, Meghalaya, Assam, Delhi, and Uttarakhand are participating in the event, informed adventure cell in-charge of the youth affairs department, Romeo Meetei.
Ahondo Menjo from the state, who had won the third position in the inaugural edition of the event last year, is currently in Pune, Maharashtra, for the National MTB Championship, due to which he could not participate this time in MTB Tawang, Meetei said.
Present during the flagging off ceremony were, among others, Sports Authority of Arunachal Vice Chairman Doni Nich, and Sports Director Tadar Appa.