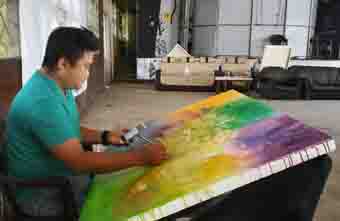 ITANAGAR, Oct 25: A three-day workshop on painting, commemorating the 150th birth anniversary of Mahatma Gandhi, is underway at Siddhartha Hall here.
The workshop is being organised by Dimapur (Nagaland)-based Northeast Zone Cultural Centre, in collaboration with the Arunachal Pradesh art & culture department.
Artists from the capital, along with students from RGU's fine arts department are participating in the workshop, which began on Thursday.
The workshop aims to disseminate the ideas and philosophy of Gandhi among the public in the form of creative art.
Jackie Bodo, a student artist from Chhattisgarh-based Indira Kala Sangeet Vishwa Vidyalaya, said the workshop was a good initiative by the art & culture department to bring out the creativity of student artists of the state.
Regarding the scope of fine arts in the state, Bodo said there are numerous possibilities in Arunachal Pradesh, but pointed out that there is a lack of awareness on the importance of art.
"It is a fact that there are very few people who can understand the in-depth artistic meaning of any artwork. People are more inclined towards portraits and they cannot be blamed for it. But we are witnessing changes as many programmes on arts are being showcased on different occasions," Bodo said.