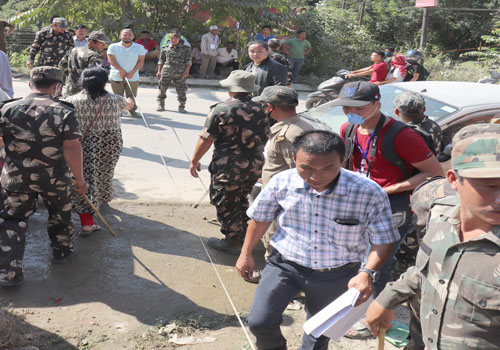 ITANAGAR, Oct 27: The eviction drive by the capital district administration along the right of way (RoW) on NH 415 from Chandranagar to Papu Nallah entered its fourth day on Saturday.
However, the eviction drive, which began on 24 October from the Chandranagar bridge point, still remains in that area due to protests by commercial building owners and the business community.
"The drive will continue up to the Jully tri-junction point in Naharlagun until further order from the authority," said an officer on duty.
Meanwhile, the Capital Complex Commercial Building Owners Welfare Association (CCCBOWA) has urged the authorities concerned to restart the construction of the national highway through the capital and at the same time stop all fresh eviction drives.
In a press communiqué on Saturday evening, the CCCBOWA said, "All RoW issues between the district administration and the commercial building owners have already been identified and solved
in their past meetings with the district administration, to the satisfaction of all parties involved."
The highway construction, it claimed, "lies stalled due to some politically motivated actions and allegations."
The association reassured the authorities that if any commercial building owner has accepted compensation under the agreed terms and is found to be withholding cooperation, the CCCBOWA would take the responsibility to ensure immediate compliance.