Kojum Taba 'strongest man of Northeast'
NE Olympic Games
[ M Doley ]
IMPHAL, Oct 27: Lifter Kojum Taba emerged as the 'strongest man' of Northeast India after he lifted more than 300 kg weight in total in the North East Olympic Games here in Manipur on Saturday.
Taba, a Commonwealth Games gold medalist, lifted a total weight of 315 kg to win the yellow metal in the men's 96 kg category.
He lifted 140 kg in snatch and 175 kg in clean-and-jerk.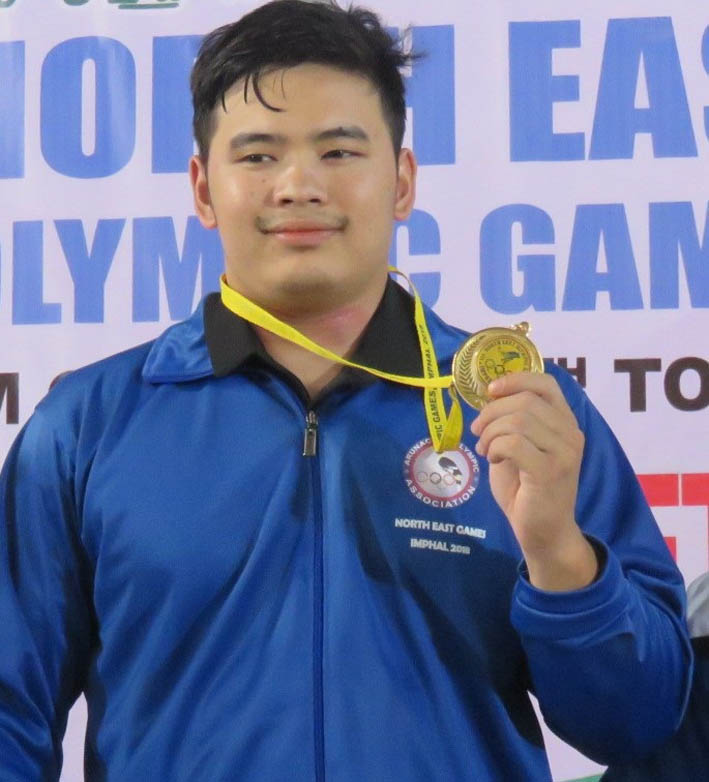 The pair of Akshay Raito and Raja Gupta clinched the men's badminton doubles gold. They defeated the pair of Isaac and Manghai Zuala of Mizoram 21-16, 21-18 in the final.
Earlier in the morning, Joshi Nipu bagged a gold medal in Wushu in the men's 48 kg category.
Arunachal bagged 21 medals [3 gold, 11 silver, 7 bronze] on Saturday, taking the total medal count to 76 [18 gold, 20 silver, 38 bronze] from the overnight tally of 15 gold, 9 silver, 31 bronze].
Woman lifter Christina Tayeng won a bronze medal in the 76 kg category. She lifted 65 kg in snatch and 85 kg in clean-and-jerk [total 150 kg].
Yabang Tali and Mudang Omo won a silver medal each in women's and men's 10,000 mtr race, respectively.
In badminton, Laa Yajum went down fighting 21-19, 21-18 to Maheswari of Manipur in the final and settled for the silver medal.
The pair of Pinky Karki and Taring Yania also won silver in the women's doubles.
Purnima and Somibala of Manipur defeated Pinky-Taring 21-19, 21-15 in the final to win the gold medal.
In Wushu, Techi Juna won a silver medal in the men's 75 kg category, while Nyeman Wangsu bagged a silver medal in gunshu and a bronze medal in daushu event.
Mercy Ngaimong bagged a silver medal in daoshu and a bronze medal in gunshu event.
Yorna Rosni also won a silver medal each in jianshu and spear events.
Liyum Lollen won a bronze medal each in spear and jianshu events.
In archery, the state won a silver medal in compound and a bronze medal in Indian round in the women's team events.
In Taekwondo, Tadar Take and Soni Nalo won a silver medal each in men's below 63 kg and women's below 53 kg category, respectively.
The men's football team will meet Manipur in the semifinal on Sunday.
They beat Sikkim 3-0 this morning to enter the semifinal.
The final will be played in the afternoon.