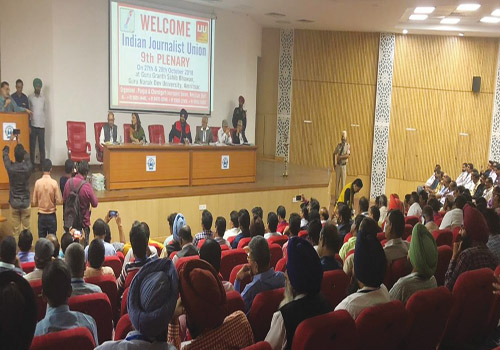 Staff Reporter
AMRITSAR, Oct 27: The 9th plenary session of the Indian Journalists Union (IJU), organised by the Amritsar unit of the Punjab and Chandigarh Journalists' Union, got underway at Guru Nanak Dev University here on Saturday.
More than 300 members from across the country participated in the plenary session of India's largest working journalists' body.
The session covered a range of issues and challenges concerning the safety of journalists and freedom of the press, with the participants expressing apprehension over the rise of intolerance and atrocities against journalists across India.
Attending the inaugural session, former cricketer and current Punjab Cultural Affairs Minister Navjot Singh Sidhu called upon the IJU to stand fearlessly for truth and freedom of the press.
"The press should not fear anybody, because it's the fourth pillar of democracy," Sidhu said. "The IJU is a powerful organization with more than 28,000 members; do not fear anybody, and face them."
"'Sadda haq aiteh rakh (keep our rights here)' should be your logo," the minister suggested.
He assured to raise the issue of the safety and security of the press fraternity both in the state assembly and in Parliament.
In his presidential address, IJU President SN Sinha said the IJU is the largest organization of working journalists in India, and is recognized by the world journalism's highest bodies.
"This organization has always stood for journalists' rights. Whenever there has been any attack or assault on the press, we have stood for the journalists' rights," he said.
He lamented that the government today expects journalists to be its PROs, and said "the journalists' duty is to serve the society and the people, not the government."
IJU General Secretary Amar Devullapali said no government should be given the right to control the media, and urged the Punjab government to enact the Journalists' Safety Act and introduce a pension scheme for working journalists.
Member of Parliament Gurjeet Singh Aujla, who also attended the plenary session, expressed concern over the growing atrocities against journalists across the India and expressed solidarity with the journalists in their fight for press freedom and safety.
IJU stalwart K Srineevas Reddy expressed concern over the ruling government's excessive "anti-press policy."
"We are not demanding privilege; we are only demanding protection," he said.
IJU Vice-President Sabina Inderjit called for safety of women journalists, and exuded hope that the IJU would promote and encourage women journalists on every forum.
The delegates later visited the Wagah border to witness the Indo-Pak flag retreat programme.