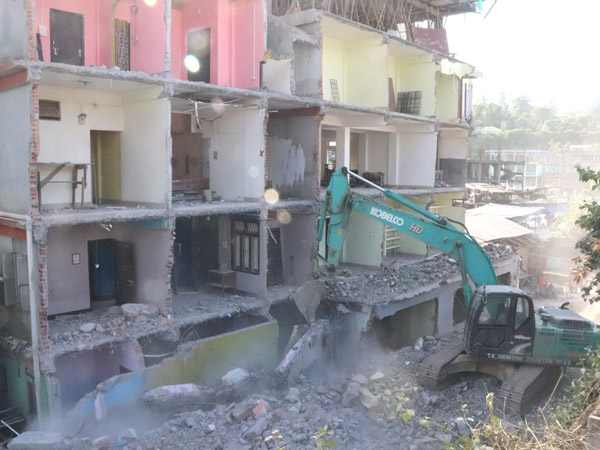 AAPSU supports eviction drive
Staff Reporter
ITANAGAR, Oct 31: The eviction drive launched by the capital district administration on Wednesday last to remove the structures that fall within the right of way (RoW) on NH 415 to make way for construction of the Itanagar-Banderdewa four-lane project is progressing at a snail's pace.
The drive, launched on the 24th of this month from Chandranagar area, is reportedly faced with technical issues as some buildings have to be partially demolished as per as the requirement of the ROW .
There are also reports of stiff resistance from the building owners.
In some cases, attempts to intimidate the officials during the course of eviction have also been reported.
Though a week has passed, the district administration (DA) is still stuck in Chandranagar.
The slow progress, though technical have not gone down well with some citizens.
"We appreciate the capital administration for starting the eviction drive which was long overdue. However, the progress is not satisfactory.
It should involve more man power and machineries to speed up the drive. The building owners are trying to use this opportunity to manipulate things in their favour," said a resident of Itanagar.
Meanwhile, the All Arunachal Pradesh Students' Union (AAPSU) has expressed grave concern over the recent stay order issued by the Itanagar Permanent Bench of the Gauhati High Court on the impugned eviction order issued by the Extra Assistant Commissioner -cum- Estate Officer, Itanagar.
The union stated that "the eviction drive, which is being carried out on NH 415 in the interest of state, should be allowed to continue, and termed the attempt to stop it as anti-development agenda".
In a release, AAPSU president Hawa Bagang said that the union has taken up the Trans Arunachal Highway issue starting from the Capital Complex, so that the execution of work is properly done in the interest of common people.
He said that the AAPSU and its federal district units will strive against any individuals or groups that work against execution of the highway in the Capital Complex as well as other parts of the state.
The AAPSU also applauded the Capital district administration for conducting the eviction drive and urged them to carry out the work without any fear for the early completion of the much-awaited Itanagar-Banderdewa four-lane road.