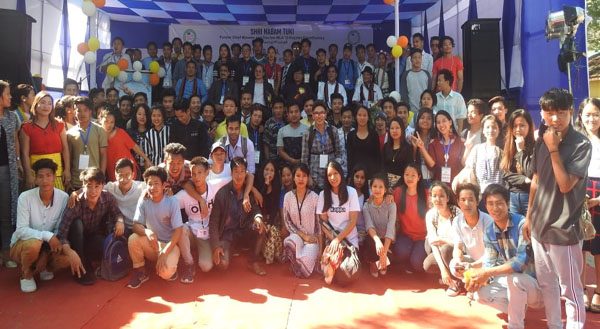 DOIMUKH, Oct 31: Former Chief Minister Nabum Tuki gave emphasis on compulsory skill development programs (SDP) in all the educational institutions of the state.
Tuki was addressing the participants at the inaugural session of the VIth annual college day celebration of the Government College, here on Wednesday.
Highlighting the essence of education, he said, the role of teachers and institutions should not be just to amass quantity of students, but to impart quality education.
He further said that education should reach out to all who desire to go for further studies and that internet facilities should be extensively used to connect with other colleges and universities to meet with the shortage of subject teachers.
Encouraging the students to display their hidden talents and skills in such occasion, Tuki asked the college authorities to invite parents and guardians of the students in such programmes.
Also addressing the grievances submitted by college general secretary Nabam Gania, Tuki, who is also the Sagalee MLA, promised to forward the same to the CM and Education Minister and other concerned officers.
Earlier, Tuki offered 'shraddhanjali' to late Indira Gandhi on the occasion of National Integration Day.
Rajiv Gandhi University Registrar-in-charge, Prof Tomo Riba, in his address, gave his assurance for permanent affiliation and asked the college authorities to furnish all the required documents at the earliest.
Earlier, Doimukh College Principal, Dr MQ Khan expressed his gratitude to Tuki for contributing tremendously
for the growth and development of the college for the past six years and acknowledged that the college is his brain child.
He also expressed hope in his efficiency for future contribution while updating the issues relating to the college like shortage of infrastructure, drinking water supply and faculty members.
Highlighting the problems being faced by the college due to absence of proper boundary wall and gate, he added that 'this problem has to be addressed as early as possible as there have been thefts inside the campus due to the absence of proper boundary wall and gate.'
He also appraised over the construction of hostels for the students and accommodation quarters for principal, teaching and non-teaching staff.