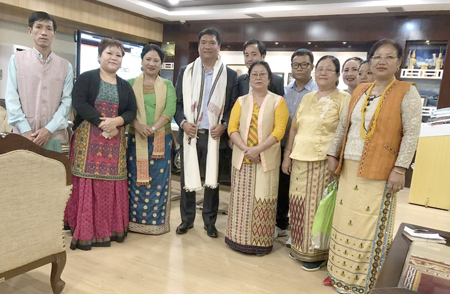 ITANAGAR, Nov 9: The Arunachal NGOs and Entrepreneurs Forum (ANGOEF) has urged the state government to patent the unique traditional tribal dress designs of Arunachal Pradesh.
Members of the forum on Friday met Chief Minister Pema Khandu here and submitted a memorandum stressing the need for patenting the tribal dress designs to safeguard the interests of the locals involved in the sector.
The group, which comprised members of reputed NGOs and entrepreneurs, urged the chief minister pass a bill in the assembly to prohibit outsiders from trading in local handloom and handicraft products.
"To safeguard our local weavers, artisans and entrepreneurs, particularly those working on traditional designs on handloom and handicrafts sector, the government of Arunachal Pradesh should pass a bill to ban traders from outside the state in trading such items," the memorandum said.
"This will help prevent the local cottage base industries from collapsing and draining out the state's economy," it said.
The forum said a large number of women are involved in this sector and are earning a livelihood from it.
Other demands of the forum included conducting skill development programmes for dropout students and unemployed youths; providing micro-finance for NGOs and entrepreneurship; including fund for NGOs and entrepreneurs in the budget; setting up handloom and handicrafts products parks for NGOs and entrepreneurs in Itanagar and other locations like airports, railway stations, tourist spots, etc, for displaying and selling local indigenous products; and constituting an 'NGOs and entrepreneurs welfare board'.