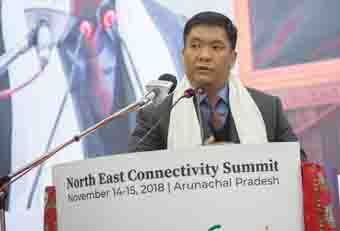 FICCI's 5th North East Connectivity Summit
ITANAGAR, Nov 14: Chief Minister Pema Khandu has called on the investors to come forward and explore the diverse opportunities offered by the state and the North Eastern region.
He was speaking at the 5th North East Connectivity Summit organised by the Federation of Indian Chambers of Commerce and Industry (FICCI) in Tawang on Wednesday.
He said the state government is willing to extend its full support to investors who are interested in Arunachal Pradesh.
Chief Minister said that land possession certificates are being given to the owners and the industries can directly buy land from landowners.
Speaking on tourism potential, CM said Arunachal with its unique flora and fauna, its large bio-diversity is relatively unexplored paradise for tourists. He said this great tourism potential of the region remains largely untapped and there is great opportunity to develop tourism related infrastructure.
Informing on huge surge in flow of tourists to Arunachal, CM said that more than 450000 tourist arrival was recorded last year in the state.
Seeking investment in power sector, Pema said the state is on the path to become power surplus with the commissioning of two hydro power plants of 110 MW in Pare and 600MW in Kameng.
"We are willing to create tailor made policies for industries that are non-polluting. We welcome fresh ideas and cooperation from the private sector to harness the potential in our state," the Chief Minister said.
Union Minister of State for Tourism KJ Alphons also spoke on the occasion while Union Minister for Commerce and Industry, Aviation Suresh Prabhu in a message congratulated Arunachal Pradesh for hosting the summit.
The summit was also attended by Power Minister Tamiyo Taga, Tourism Minister Jarkar Gamlin, Lok Sabha MP Ninong Ering, Chief Secretary of Meghalaya Yeshi Tsering, Chief Secretary of Arunachal Satya Gopal, Chairman FICCI North East Advisory Council Ranjit Borthakur and others.
The two-day summit is also being attended by representatives and delegations from neighboring countries such as Bhutan and Bangladesh, from Government of India and representatives from the corporate and industry. The theme for this year is Tourism Connectivity.