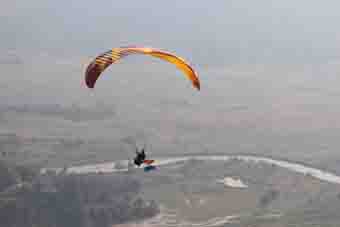 LUMDUNG, Nov 18: Seppa West MLA Mama Natung on Sunday inaugurated the 'Arunachal Paragliding Festival 2018' at the paragliding site here in East Kameng district.
Addressing the large gathering of officers, youths, locals and others, Natung said the festival would a long way in promoting sports and adventure tourism.
"It will not only promote tourist flow but also increase the economic condition of the people living in the area," he said.
Describing Papu Valley as one of the best destinations for paragliding, Natung said he would take up with the chief minister the matter of declaring the festival as a calendar event.
He thanked the sports and tourism departments for supporting the event, and assured Paragliding Association of Arunachal (PAA) president Vijay Sonam of support to ensure success of the event. The PAA is the organiser of the festival.
Sonam informed that the association finalized Lumdung as the site for the event after conducting surveys over the last three years.
"The advisers and consultants from other states visited the site last year, and trials were conducted several times," he said.
Thirty gliders from different parts of the country, including Tamil Nadu, Maharashtra, Karnataka, Uttarakhand, Himachal Pradesh, New Delhi, Sikkim and Assam, and from countries like Indonesia, the USA, Nepal, Canada, Slovenia and others are taking part in the festival.
The festival will also feature a competition for the gliders. A large number of locals are also actively participating in the event.
East Kameng DC Gaurav Singh Rajawat, Sports Assistant Director Karbia Dodum, Tourism Assistant Director Bengia Mana Sonam, HoDs, political leaders, social workers, former PRI members and others were also present on the occasion.