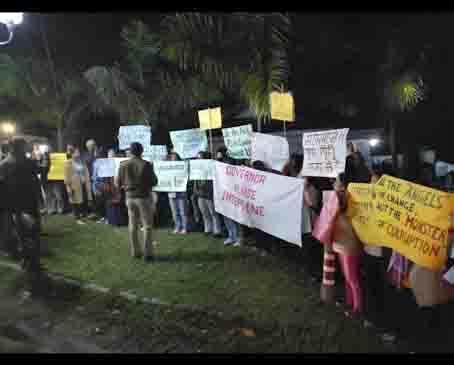 [Nellie N Manpoong]
ITANAGAR, Nov 18: The protesting Arunachal Pradesh Public Service Combined Competitive (Mains) Examination (APPSCCE) candidates held a spontaneous silent rally towards the Raj Bhavan here on Sunday evening to pursue their demands with Governor BD Mishra.
The candidates were stopped by security personnel a few metres ahead of the governor's residence, where they staged a brief protest.
On request, Raj Bhavan officials allowed Arunachal Civil Society's Patey Tayum to meet with the governor to place a request for a meeting between the governor and the candidates on Monday.
The candidates said the rally was taken out to make the governor aware of the situation and reiterate their demands which have been placed before the state government and the Arunachal Pradesh Public Service Commission (APPSC).
They said there was growing resentment among the candidates over the state government and the APPSC's failure to initiate any action in the matter.
"A candidate is on hunger strike for the last four days but not a single authority from the state government or the commission came to visit us. We are not sure whether the governor is aware of the gravity of the situation. It is the reason why were came here – to let the governor know what's happening," he said.
Earlier, in the morning, MP East Ninong Ering came to IG Park and expressed solidarity with the candidates.
While he said that they should have appeared for the examination, Ering noted that the concerns pointed out by the candidates were also worth looking into.
He said he would meet with the APPSC secretary, chairman and members on Monday and hold discussions for an amicable solution.
"The commission is an autonomous body and we cannot interfere, but we can ask them to consider our plea. The government will look into it, and we are hopeful to find a solution for all of you," he said.
Tuter Gao, who is on a hunger strike since 15 November at the IG Park tennis court, was joined by various other organisations on Sunday.
In support of the movement, Arunachal Pradesh Women's Welfare Society vice president Tojum Potom also sat on a 12-hour hunger strike with Gao today.
Representatives of the Rajiv Gandhi University Students' Union, the Nari Kalyaan Kendra, the Rajiv Gandhi Panchayati Raj Sangathan, and the state unit of Anna Samarthak also came to show their support to the candidates.
The candidates, who were earlier seeking postponement of the mains examination, are now demanding cancellation of the same.
The protest has been continuing since 10 November.