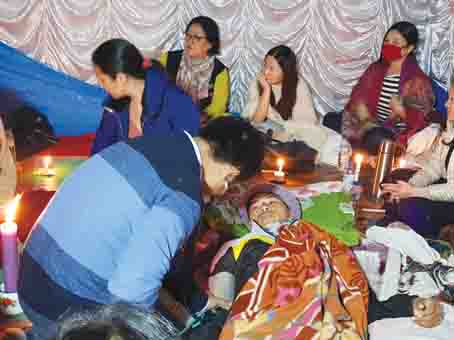 [Nellie N Manpoong]
ITANAGAR, Nov 19: Governor BD Mishra took note of the demands of the agitating candidates a day before the Arunachal Pradesh Public Service Combined Competitive (Mains) Examination (APPSCCE) concludes on Tuesday.
The governor assured to look into the ongoing APPSCCE controversy after the Arunachal Pradesh Congress Committee (APCC) submitted a memorandum on Monday evening, seeking his intervention.
APCC president Takam Sanjoy said the party presented an overview of how the matter escalated to its present scenario and demanded cancellation of the ongoing mains examination and conducting fresh examinations in a free, fair and transparent manner, besides demanding a new team of the Arunachal Pradesh Public Service Commission (APPSC).
"The governor has assured to look into the matter," Sanjoy told reporters here.
Demonstrating their support for Tater Gao and others who are on a hunger strike, the candidates held a candlelight vigil at IG Park here late Monday evening.
A few parents who had arrived to extend their support also criticized the All Arunachal Pradesh Students' Union (AAPSU) for its "ringleader" remark.
One of the parents claimed that the candidates who had initially instigated the others to protest for postponement of the examination are the ones currently appearing for the examination.
"The AAPSU should understand the full particulars of the situation before accusing the aspirants of being ringleaders," he said.
Another parent said it was unimaginable for any parent to sleep soundly when their children were sleeping out in the cold.
Addressing the candidates, Rajiv Gandhi University professor Nani Bath criticized MoS Kiren Rijiju and state BJP president Tapir Gao for neglecting the concerns of the student community.
He said the candidates were "victims of the system and uncertainty created by the APPSC," and that the system required corrective measures.
Earlier, MP Ninong Ering also tweeted that he has requested Chief Minister Pema Khandu to take up the issue of the aspirants.
Meanwhile, Tater Gao on Monday entered the fifth day of his hunger strike. He was joined by two other candidates, Bengia Sima and Yongam Paling, and the Arunachal Pradesh Women's Welfare Society's Itanagar unit president Jaya Joram.
Health experts informed reporters that Gao was "clinically stable" for now and his condition is being monitored thrice a day.
The experts, however, said the condition of Paling has begun deteriorating, and advised the magistrate to take appropriate measures to transfer her to a health facility.
Members of the Arunachal Civil Society, the Galo Students' Union, the Kargu Kardi Students' Union, the North East Human Rights Organisation, and other organisations also came to extend their support.