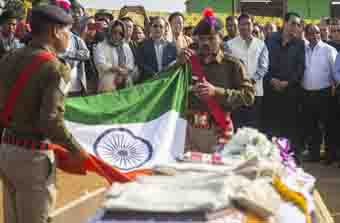 ITANAGAR, Nov 20: Former agency council member late Nabam Runghi who passed away on Sunday was laid to rest in Yupia today.
Chief Minister Pema Khandu paid his last respects to the departed soul at the deceased's residence in Yupia. Pema, along with cabinet ministers and MLAs, laid wreaths and paid obeisance to the mortal remains of the former agency council member.
The CM said late Runghi was a visionary leader who had convinced the then governor of Assam, BK Nehru, to make Itanagar the headquarters of the newly-formed union territory of Arunachal Pradesh in 1975-'76.
"We are thankful to late Shri Runghiji for his visionary step, and in recognition of his contributions, he was awarded with a gold medal last year," Pema said.
He said when Runghi had proposed Itanagar as the capital of Arunachal four decades back, he might have had plenty of dreams about how the city should have grown in the future.
"Today I am asking: have we fulfilled his vision for Itanagar or not? My view is that we haven't," said Pema.
He said late Runghi's soul would be in peace "only when we are able to stand to his expectations by making Itanagar a beautiful city," and appealed to all to work together to fulfill the vision of late Runghi.
Following the CM's address, the mortal remains of late Runghi were cremated with full state honour.
The funeral was also attended by Deputy Chief Minister Chowna Mein, former CM Nabam Tuki, Environment & Forests Minister Nabam Rebia, MLA Techi Kaso, and others.
Meanwhile, the state unit of the National People's Party (NPP) has expressed condolences to the family of late Runghi.
"We the people of the state have lost a renowned social worker, a perfect gentlemen and a visionary community leader who dedicated his life for the welfare of the people of the Arunachal Pradesh. He will be always remembered by the people of the Arunachal Pradesh for being the architect of the state capital Itanagar," the party stated in a release.
The Mikir Welfare Society of Arunachal Pradesh and the Arunachal Pradesh Tour Operators' Association have also deeply mourned the passing away of Runghi.