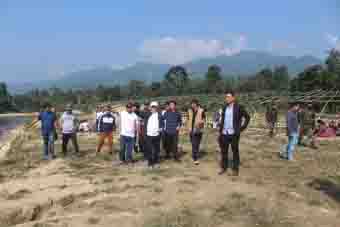 Preparation on for PPRF
SANGDOPOTA, Nov 21: Environment and Forest Minister Nabam Rebia has appealed to the people of Papum-Poma region and department of tourism to promote the area as tourist destination.
He said this on Wednesday while reviewing the preparation of the forthcoming Papum Poma River Festival (PPRF)-2018 at Kanebung village under Sangdupota circle of Papum Pare district.
During the site visit, Rebia appealed the local people and all the heads of the various departments to join hands together to make the festival a grand success.
"The Papum Poma area being nearer to state capital has huge tourism potential. This festival should be used to tap this tourism potential for the benefit of the local communities," said Rebia.
Further he requested the HoDs to extend every possible help to the PPRF organizing committee.
The minister also urged the committee members and youths of the area to develop the area as tourist destination.
Rebia informed that Union Minister of State for Home Kiren Rijiju will inaugurate the four days festival on November 28.
The four days festival will be hosted in the confluence of Papum Poma at Kanebung village.
The PPRF-2018 will witness various adventure events like white water rafting, rock climbing, kayaking, zip-line, river crossing, rappelling, hiking, angling and camping, traditional sports and beach volleyball, live performance by local artists, celebrities with traditional ambience.
Rebia was accompanied by Papum Pare Deputy Commissioner Dr Joram Beda and officials of various departments.