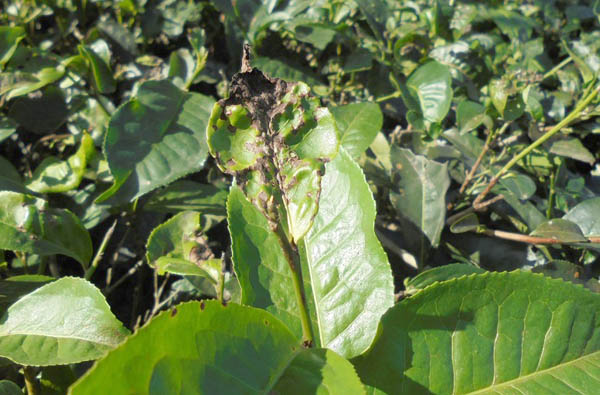 [ Prafulla Kaman ]
RUKSIN, Nov 23: Tea planters in the Siang valley, including East Siang and Lower Siang districts and areas bordering Jonai (Assam), who are already bracing for a low production owing to lack of rainfall during the summer season this year, have now been hit by a bug menace.
A mosquito-like insect, Helopeltis (Helopeltis theivora), commonly known as 'mealy bug', has created havoc in the gardens along the Assam-Arunachal boundary areas since October this year.
Helopeltis infestation has been reported from tea gardens in Oyan, Kemi-Jelom, Ruksin, Nari-Seren, Telam and Dekapam areas, besides other boundary areas, which has caused huge losses for the tea farmers.
Tea planters fear that if the pest attack is not controlled, it will severely affect the quantity and quality of the tea production in the region.
Unabated bug infestation has compelled many tea farmers to adopt early pruning of tea bushes to get rid of the problem.
"We have suffered a loss of about 20 percent of the average annual production in the tea leaves business this year due to the pest infestation. The tender leaves of tea bushes are more prone to attacks from Helopeltis. We sprayed Tea Board recommended pesticides to control the bug attack but the situation remains," rued Nyodek Yonggam, a tea planter of Oyan village in East Siang district.
Yonggam, who is a former Rajya Sabha member from Arunachal Pradesh and the acting chairman of the Siang Basin Tea Farmers' Association, said management through pesticides to control the bug infestation has crossed the economic threshold
level (ETL), so that the tea farmers are unable to afford the cost of medicine for repeated application.
"We have appealed to the government to send expert entomologists to assess the pest infestation and suggest necessary control measures," Yongam said.
Scientists say although there are chemicals which were used earlier to tackle the bug, these cannot be used now, after the implementation of the Plant Protection Code, which bars the use of toxic chemicals on the tea plant.
Another tea farmer, Rehkar Doye, of Seren in Lower Siang district, said there has been no respite from the pest despite applying the pesticides prescribed by the Tea Board.
"Pluckable tea leaves in large patches of my tea garden were damaged by attack from this particular pest in the last couple of months," Doye said.
According to scientists, a matured Helopeltis may create 100 sucking per day.
Four tea estates and about 90 small tea gardens have been developed on the boundary area. After rubber plantation in the hilly terrain and the plains of the boundary area, tea cultivation has been making rapid strides in the region during the last two decades.