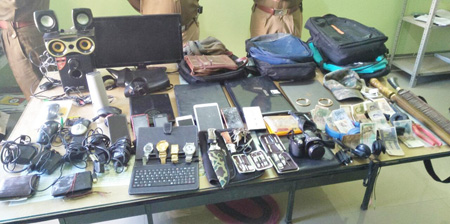 ITANAGAR, Nov 30: Police here have arrested two persons from near the Rajbhawan tri-junction here and recovered huge quantities of stolen items.
The arrested persons have been identified as Goken Gongo (20) and Toko Tatam (19).
Itanagar police on 18 November received a complaint from one Oshin Eko of Niti Vihar that two laptops, two mobile handsets, a tablet and Rs. 2.7 lakh were stolen from her rented house near Senki View Tinanli.
Police launched investigation and rounded up several habitual criminals. The breakthrough was made when the two persons were arrested on 28 November, informed SDPO (Itanagar) Kamdam Sikom.
Investigation officer SI Randhir and his team of police led by SDPO Sikom conducted search operation and recovered six laptops, equal number of mobile handsets, a tablet, a DSLR camera, four wrist watch, a TV, four sound systems, foreign and Indian currency notes of 10 countries, including Bhutan, Sri Lanka, Bangladesh, Myanmar, Nepal, China, Combodia, Thailand, Singapore.
These items were reportedly stolen from various parts of capital complex and Daporijo, Upper Subansiri.
The police are continuing investigation into the case.