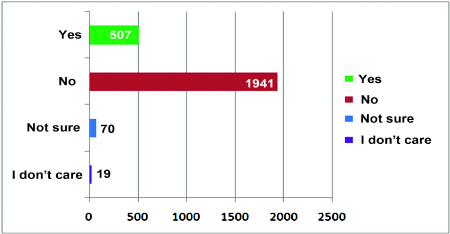 A total of 2537 readers took part in the vote. An overwhelming 1941 respondents said they were against granting of permanent resident certificates (see poll results).
Should PRC be granted to non- APST but Indians settled prior to 1968 in 49-Bordumsa-Diyun and 50-Miao-Vijaynagar constituencies in Changlang and 48-Lekang Constituency in Namsai?
Comments from our readers
1. PRC shouldn't be granted for political motive.
2. Yes to PRC if there is a written provision which doesn't allow them to buy or sell any immoveable property and they are not categorized as Arunachalee STs in any state job.
3. Granting of PRCs to non-APSTs in Arunachal is equivalent to abolishing the inner-line permit system.
4. If they are genuine, then PRCs should be issued to them as soon as possible as they are living in Arunachal Pradesh since decades. Being citizens of India, they shouldn't be denied getting their right by the government of Arunachal Pradesh. But suitable norms should be framed, so that it doesn't hurt the rights of indigenous people of the state.
5. Definitely not. It will dilute the rights of the APSTs. Once the floodgate is opened, there will be no looking back and Arunachal will become another Tripura with the indigenous tribes becoming minorities in their own state. Definitely not desirable.
6. If the demand of PRCs is met then the demand for ST status will also rise. And the timing of all this demand, though pending for a long time, is not a coincidence. Bida Taku wanted to impress those non-APSTs, so Chowna Mein had to budge and now we have this message. If there is any provision to swap interstate lands then let them take away Lekang.
7. The Arunachal Times should employ/hire journalists with proper history knowledge and proper general knowledge. Good luck for future polls but do go through the definition of indigenous people in Wikipedia.
8. This is the worst decision ever taken by Arunachal government since the formation of the state. Politicians today have stooped to such an unimaginable and pathetic position that they are ready to sacrifice the future of the indigenous population to gain political mileage. All the elected MLAs are equally responsible for not being vocal against the decision of the CM/DyCM.
9. This decision if not opposed will be very, very detrimental for the state of Arunachal Pradesh and it' indigenous population. Even if not now, but soon it's going to change the whole socio-political scenario of the state to a point where the indigenous would be pushed to minority. So, I humbly request the people in power to please kindly take caution and think again.
10. Let the Assam government come up with some sort of certification and programme for recognition of Assamese people living in that area to avail facilities from Assam government. Should not be our headache.
11. Better let go of Assam tribal inhabited areas to Assam. Giving PRCs to the people of Lekang and Bordumsa will trigger a chain reaction. It will encourage non-APSTs from other regions to demand PRCs which will be detrimental to AP.
12. Because I am from Lekang and our forefathers were getting PRC and ST, so why not us? Deoris, Moran, Mising are indigenous people of undivided Assam. Arunachal's people don't have the knowledge about it, that's why they are against it.
13. An alternative arrangement can be pondered upon, such as domicile certificate or residence certificate. Granting PRCs will hugely dilute the provisions of the Bengal Eastern Frontier Regulation Act and open the gates wide for many more problems. This solution will lead to more problems.
14. Yes. They are living here for decades now and I am sure they call themselves Arunachalees in every way. However, granting PRCs shouldn't be confused with ST status, because they aren't STs. This should be clarified to the masses.
15. They are still the owner of their lands. Some have been settled in Lekang constituency before Independence. Arunachal became a state in 1987. It's not an issue of APST or non-APST, these people are the rightful owners of the land. They are not outsiders. They didn't force any APST out of their land. When Arunachal was carved out, their land came in Arunachal state.
16. Today their demand is for PRCs, tomorrow their demand will be for ST certificates and finally one day they will elect someone from their own community as legislator/s. Government of AP should go for long run politics instead of playing petty politics.
17. What about the Bengal Eastern Frontier Regulation 1873?