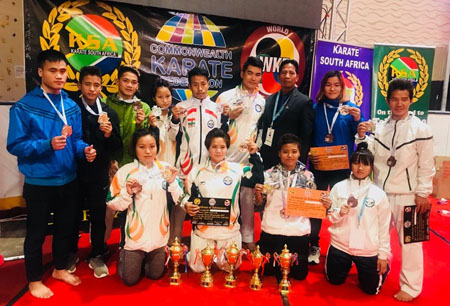 Staff Reporter
ITANAGAR, Dec 9: The karatekas of Arunachal Pradesh again proved their mettle at an international event, winning 16 medals in the just concluded 9th Commonwealth Karate Championship at Durban, South Africa. The karatekas from the state won 4 gold, 6 silver and an equal number of bronze medals, demonstrating their ever improving performance.
The gold medallists in individual events are Deepak Jomoh, Samem Romat and Raja Yangfo. The trio of Bamang Yamu, Goda Asha and M Sengh bagged a gold medal in the senior women's team kata.
While Deepak bagged the gold in the 12-13 years boys' individual kumite in the below 40 kg category, Romat won the yellow metal in the cadet boys' below 63 kg category.
Raja bagged the gold in the senior men's kumite in the below 60 kg category.
The silver medallists are Kina Sipa (in sub-junior girls' individual kata), Yanung Gamnu (cadet girls -47 kg), Lodor Tong (junior boys' individual kata), Mojum Dodum (boys U-21), P Nobin Jomoh (one medal each in senior men's 84 kg and team kumite).
The bronze medal winners are Bamang Yamu (women U-21), Raja Yangfo (men U-21), Johny Mangkhiya (one medal each in -68 kg and team kumite), Goda Asha (senior women below 50 kg) and Mojum Dodum (senior men's below 60 kg).
P Nobin Jomoh was the first karateka from the state and the Northeast to win any medal in the Commonwealth Karate Championship. He had won two silver medals in the 2013 Commonwealth Karate Championship, which was held in Canada.
In the five years since then, the karate players from the state have made tremendous progress, and contributed the lion's share of medals to India's total 59 in the ninth edition of the championship, which was held from 29 November to 2 December.
It is pertinent to mention that Arunachal had made a clean sweep of the karate medals in the first North East Olympic Games, which was held at Imphal, Manipur, in October this year.