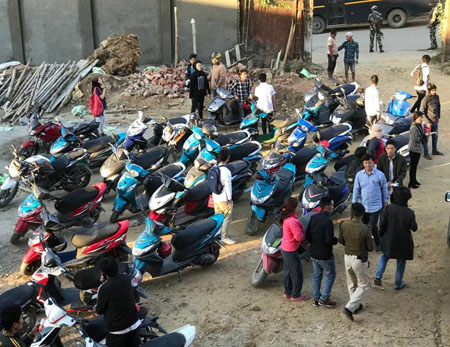 ITANAGAR, Dec 11: The capital police have launched a drive against vehicles without number plates, impounding 72 two-wheelers without number plates on Tuesday alone.
Out of these, 26 have been seized by the police for further verification while fines were imposed on the owners of the remaining vehicles.
The Itanagar and Naharlagun police stations were bustling with riders who had to face stiff fines or even leave behind their bikes and scooters for further verification.
Capital SP M Harsha Vardhan said the drive will continue in the days to come. "We may have detected some stolen two-wheelers also during the process, and detailed verification is going on," he said.
The SP urged the residents of the capital complex to ensure that their vehicles have valid registration numbers.
"Vehicles without number plates give an image of disregard for the law on the roads, and they also give rise to the possibility of criminals misusing these vehicles," he said.