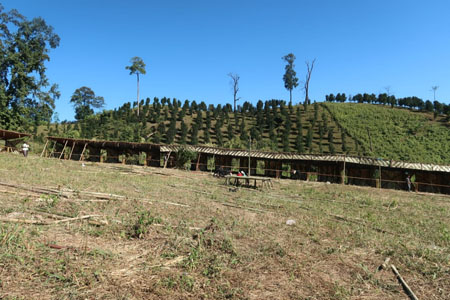 [ Karyir Riba ]
Roing, Dec 12: The Orange Festival of Adventure and Music (OFAM) is all set to enthral music lovers and adventure junkies from all around the world at Dambuk in Lower Dibang Valley District, starting from Dec 15.
Preparations to kickstart the 5th edition of the four day long festival is going on in full swing at the festival site, which is nestled in a very picturesque area surrounded by orange orchards all ready for harvest.
The OFAM boasts to be India's first adventure and music festival at one platform, and as per the organisers, this edition is going to be even more adventurous then before, with so many more adventure sports added to the list. Music lovers will also be contented as local, national as well as international artists/bands will be performing throughout the festival.
Apart from ATV rides and dirt biking, this year the festival will also have scuba diving, para sailing, para motoring, white water rafting, zip lining, burma bridge, amongst other adventurous activities. The JK tyres 4×4 fury this year will have 8 stages compared to the 6 stages of the last editions, informed the organisers.
As per the organisers, apart from orange plucking, the 5th edition of OFAM will also host an orange eating competition for the first time ever.
The OFAM which consists of four days of song, art and adventure, not only exposes the beauty of Lower Dibang Valley district and the state as a whole to the outside world, but also helps the local villagers to generate income and showcase the local traditional food and culture.
As the festival site looks so busy setting things up, one can also see how the households, especially the ones leading upto the festival site, are also gearing up for the event in their own little ways. Traditional huts being set in their backyard orange gardens speaks a lot about how the villagers have learnt to sway in tandem with the OFAM.
Locals can also be seen gearing up to set stalls for food, drinks and other tradeable items at the OFAM site. In this context, the fest seems to benefit the local economy in some way.
With the Dibang Bridge making access to Dambuk easy, the OFAM can expect even more music and adventure enthusiasts this year, opined locals.