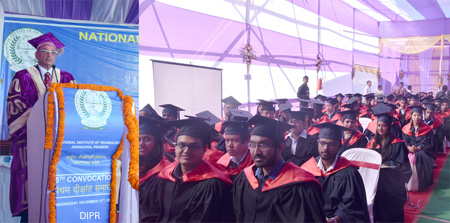 Fifth convocation of NIT held
ITANAGAR, Dec 12: "Learning is a continuous process and students should keep learning and contribute in nation building," said Sanjay Hemant Inamdar, a first generation Engineer and an entrepreneur while addressing the graduating students during the fifth convocation of National Institute of Technology, Yupia here on Wednesday.
He asked the students to be fully equipped and prepared to face the harsh world outside which was replete with challenges and hardships. "Having a positive mindset can have a huge impact on happiness and success one would achieve in the future," opined Inamdar and asked the students never to give up without a fight adding that the world belongs to those who are positive in thought and those who dare and act.
While congratulating the graduating students, board of governor's chairman, Prof. Anil D. Sahasrabuddhe said that the country needed to create not only employable engineers but also employment creating engineers by starting startups and becoming entrepreneurs. He further said that in order to build a vibrant, strong and self-reliant new India, the educational institutions have to have a right mix of knowledge creation, knowledge assimilation and dissemination, developing skills, values, attitude and finally application of knowledge.
Director of NIT Prof. Pinakeswar Mahanta also spoke on the occasion.