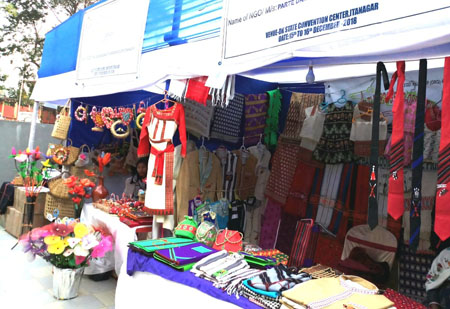 Staff Reporter
ITANAGAR, Dec 15: About 62 local NGOs have set up stalls showcasing colourful handloom, handicraft, agriculture and horticulture products as part of the two-day exhibition-cum-sellers' meet which got underway at the Dorjee Khandu state convention centre here on Saturday.
Themed 'Be local, buy local', the meet is organised by the Arunachal NGO & Entrepreneurship Forum (ANGOEF). It was inaugurated by Indigenous Affairs Commissioner GS Meena.
"Through this exhibition, the ANGOEF aims to provide a platform to the local NGOs and entrepreneurs to promote their goods to potential buyers from outside the state," ANGOEF chairperson Taba Yall Nabam said.
"The number of participating NGOs could have been much more, but due to the limited space we could not accommodate them all," Nabam said. "However, we are glad our stalls have received good response from the people, especially the stalls displaying handlooms, local cuisines, bamboo crafts and creative jewellery, which have become quite popular among the crowd," she said.
The ANGOEF chairperson informed that a fashion show will be held on the final day, 16 December, at the same venue, where creations of fashion houses like Khinam Fashion House, Jenier Weaver Cooperative Society, Ajin Ana Society, Perte Dene Multipurpose Cooperative Society, Your Choice Collection, etc, will be showcased.
"There will also be a musical entertainment programme by artists like Bijnoo Nabam and Jeli Kaye," she added.