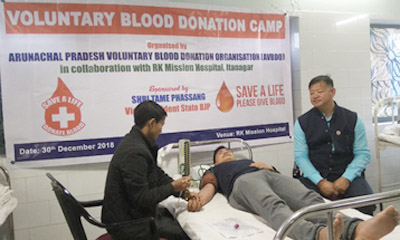 ITANAGAR, Dec 30: The Arunachal Pradesh Voluntary Blood Donation Organization (APVBDO) in collaboration with RK Mission Hospital here organized a blood donation camp at the hospital on Sunday.
The camp received good response from the volunteers of the organization, besides students, members of the public and political party workers.
State BJP vice president Tame Phassang, who sponsored the camp, was also present during the camp to motivate the donors.
He highlighted the importance of blood donation to meet the demand for blood and save human lives.