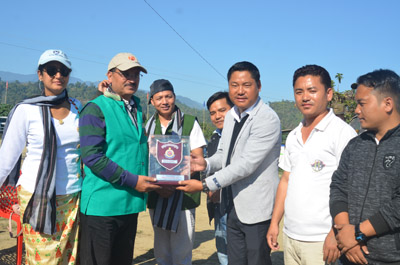 DOIMUKH, Jan 2: The team of Arunachal Pradesh Police led by Director General of Police (DGP) SBK Singh visited the eco-camp here at Island Point near Tana Hari angling spot on Tuesday and interacted with the camp's managing team, 'Being Arunachalee'.
The DGP appreciated the team members of Being Arunachalee, who are running the camp for organising the mega retreat of three months, which showcases the tribal traditions and way of living, besides traditional sports and other recreational activities.
The DGP appealed to all the youths of the state to engage in such innovative, energetic activities and ideas, instead of indulging in anti-social activities and social menace.
He also handed over a memento as a token of appreciation to the team.
The visiting team of the DGP included Capital SP M Harshavardhan, SP Planning MK Mena, Papum Pare SP Tumme Amo, DSP, SDPO and others, who took part in some adventure sports activities, such as para sailing, zip Lining, water roller, kayaking and river rafting.
Being Arunachalee (an NGO) president Ringu Kuku appealed to the state government to avoid old procedures in promoting tourism.
Kuku said that if any individual or group comes up with an innovative concept benefiting the tourism sector, the state government should voluntarily come forward to promote such concepts.
"It shouldn't always be necessary for any organization to seek fund and promotion. The government should sometimes come forward for such recreational activities. It has been two months since the eco-camp has been operating, but it is painful to see that no appreciation has come from the Tourism department," Kuku said.
He also informed that whatever profits are earned through the eco-camp, shall be used for social welfare activities by Being Arunachalee.
Over 50 unemployed youths have been engaged in the camp and are earning through it, he added.
Kuku was hopeful that Chief Minister Pema Khandu would encourage such innovative ideas in the tourism sector, through which youths of the state are provided employment.
Being Arunachalee vice president Nabam Tado informed that there are several facilities for amusement and activities for all age groups, besides restaurants and coffee shops.
Games and sports activities include zip lining, sonker, para sailing, archery, rafting, kayaking, bounce castle, water roller, water gliding, etc.
There are around 30 different huts for visitors and a musical night is held every weekend.