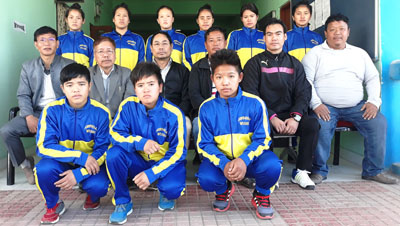 ITANAGAR, Jan 7: A nine-member girls' Wushu team from Arunachal Pradesh left here on Monday for Ranchi, Jharkhand, to participate in the 64th National School Games scheduled to be held there from 10 to 13 January.
A briefing session for the participating players was organized at the secondary education directorate here prior to their departure by Secondary Education Deputy Director S Ronrang. It was also attended by Arunachal Teachers' Association president Kipa Kechak and other officials of the directorate.
The team (U-17): Gyamar Kana, Lucy Miuli, Dorjee Dema Dingla, Taug Ama, all from Sangay Lhaden Sports Academy (SLSA), Chimpu, and Paya Taku from Green Mount School; (U-19): Rinchin Lamu Megeji, Onilu Tega, Pipi Yangfo, all from SLSA, and Chera Yagu from Kimin GHSS.
M Premchandra Singh is the chef de mission and coach, and Techi Juna is the manager of the team, according to a release from the secondary education directorate.