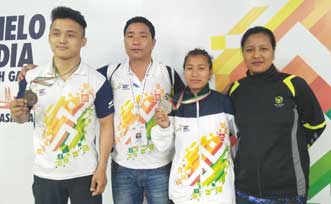 ITANAGAR, Jan 12: Lifter and judokas bagged three medals for Arunachal Pradesh on Day 5 of the Khelo India Youth Games on Saturday.
While Kabin Doyom bagged the silver medal in the girls' U-21 and 48 kg bodyweight category in Judo, Liza Kamsha won a bronze medal in weightlifting in the girls' U-17 and 64 kg bodyweight category.
Doyom lost her final bout against her opponent from Delhi. Liza lifted 64 kgs in snatch and 84 kgs in clean & jerk.
Madin Hina won a bronze in Judo in the boys' U-21 and 66 kg bodyweight category, informed Khelo India's Arunachal Pradesh coordinator Karbia Dodum.
Another lifter from the state, P Chanu, secured the 5th position. She lifted 73 kgs in snatch and 90 kgs in clean & jerk for a total of 163 kgs in the girls' U-21 and 64 kg bodyweight category.
Judokas Ehalu Tega and Kamdon Boi failed to make podium finish.
In badminton, Laa Tukum lost fighting 21-19, 12-21, 21-12 to Gandham Pranav Rao of Telangana in the semifinal of the boys' U-17 singles competition.
In the bronze medal playoff match, he lost 17-21, 21-18, 12-21 to Ishaan Bhatnagar of Chhattisgarh.
In the boys' U-17 wrestling, Dari Saimon made a first-round exit.
Arunachal, still bereft of a gold medal, was standing at the 21st position in the medal table with five silver and six bronze medals till the filing of this report.
The boxing competition will start on Sunday. The state has fielded eight boys and a girl in the boxing competition.