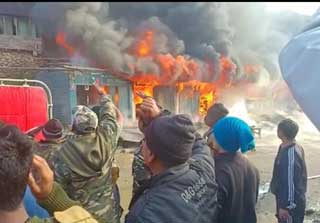 A massive fire broke out at Koloriang town on Wednesday morning and completely gutted down 17 shops and a house, while seven shops were partially damaged, as per reports from the damage assessment team and DDMO.
Koloriang MLA Pani Taram, Kurung Kumey Deputy Commissioner Santosh Kumar Rai and SP Mihin Gambo also visited the spot.
Reacting to the Koloriang fire incident, All Nyishi Youth Association (ANYA) president Byabang Joram said the incident has inflicted pain and agony on the shop owners and daily wage earners.
He appealed to the district authority to grant immediate relief fund towards the fire victims and at the same line has cautioned the inhabitants to be careful and stay safe from the fire mishaps.
While Joram expressed concern over the frequent fire mishaps in the state in general and Nyishi inhabitant districts in particular, he appreciated the prompt action of the fire brigade officials of Koloriang.