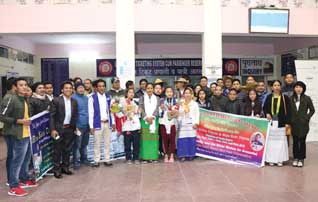 NAHARLAGUN, Jan 18: The state's medal winning players who participated in the Judo discipline in the Khelo India Youth Games in Pune, Maharashtra, were given a warm reception at the railway station here on Friday.
Several sports lovers along with family members, relatives, well-wishers and NGO representatives turned up to welcome the winners.
Sisters Kabin Doyom and Kabi Doyom won silver medals in the U-21 and U-17 category, respectively, in the girls' section. Madin Hina and Khendam Wanghap won bronze in U-21 and U-17 category, respectively, in the boys' section.
The Doyom sisters expressed happiness over their performance, and shared their experiences of participating in the Games.
Members of the Rayu Ao Welfare Society and the Galo Baptist church, and youths of Yegri village in Lepa Rada district were among those who received the judokas.
Ten judokas represented Arunachal in the Games, coach Verrozami Manham informed.