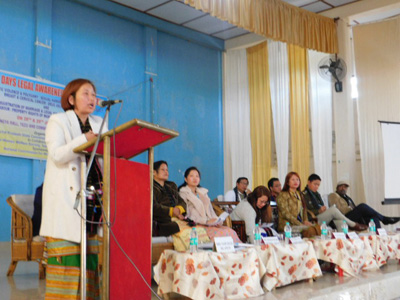 TEZU, Jan 28: Stating that domestic violence and polygamy are the burning problems being faced by the state, the Arunachal Pradesh State Commission for Women (APSCW) has called for eradicating the evil practices.
"The nation will progress in full only when the women are empowered and given due respect," said APSCW Chairperson Radhilu Chai at a legal awareness programme here in Lohit district on Monday.
She advocated providing equal rights and responsibilities to women "at levels of activities," and said the practice of exchanging large numbers of mithuns as bridal price should also be discouraged.
The APSCW chairperson also emphasized the need to educate girl children to ensure overall development of the society.
APSCW Member Secretary Yame Higio said a majority of the women in the state are unaware of their legal rights, which she said was the reason the awareness programme was organized.
"This is the first legal awareness conducted by the new APSCW team, and more such programmes will be held in other districts too in a phase-wise manner," Higio informed.
Tezu SDO Kajal Karmakar said a society would develop only when the girl children are healthy and educated. She also spoke about the impact of domestic violence and polygamy on families and the society.
Advocate Kumar Dorjee spoke about the types of sexual harassment at workplace, while Sub-inspector S Jubli informed the gathering about the POCSO Act.
Inspector Chapang Lowang, Dr S Muri and Dr G Angu spoke about drug abuse, breast cancer and cervical cancer, respectively.
Sponsored by the National Commission for Women, the awareness meeting was attended by Lohit SP DW Thongon, departmental heads, members of the All Mishmi Women Welfare Society, GBs, students, and members of the public.