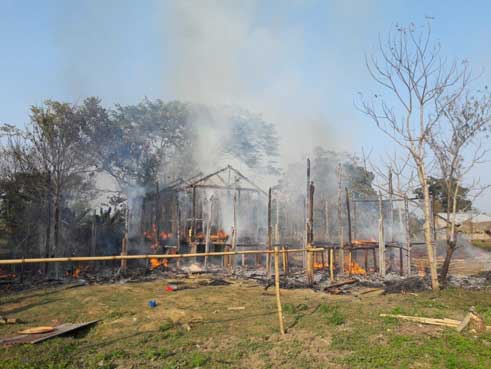 BORDUMSA, Jan 31: The house of one Jawong Dumsa was reduced to ashes in a fire that broke out here in Changlang district on 30 January.
Reportedly, the fire broke out at around 2.10 pm, while Jawong and his younger brother Brangsan Dumsa were in Changlang headquarters to appear for the physical test of the ongoing Arunachal Pradesh Police constable recruitment.
All household articles, including clothes, ornaments, official documents, gas cylinders, etc were destroyed in the fire.
About 30 quintals of recently harvested paddy, stored in the house due to lack of a granary, was also totally destroyed.
Reportedly, nearby residents tried to douse the raging fire but the inferno destroyed everything within half an hour.
Bordumsa Police Station OC KM Das and ADC Dr Devansh Yadav reached the spot of incident to take stock of the situation.
The ADC has assured to provide relief as per norms and availability of fund.
As the brothers were out of town, All Bordumsa Singpho Students' Union (ABSSU) president Nongja Innem submitted a first information report to the ADC on behalf of them.
In his fire incident report, Innem also reminded the ADC about the submission of memorandum to former ADC of Bordumsa Sabadam Tayang to establish a fire service station at Bordumsa as fire accidents occur every year.
"The nearest fire service stations are located at Namsai and Digboi, Assam-both some 40kms away from Bordumsa. By the time fire tenders arrive, the structures turn to ashes," Innem said and requested the ADC to look into the matter.
The ADC on his part has assured to provide and install fire extinguishers at various important locations of Bordumsa town.