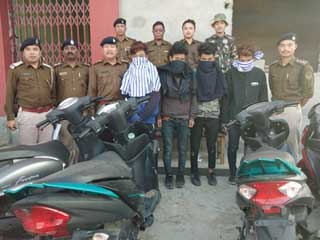 ITANAGAR, Jan 31: In a major breakthrough, the Capital unit police recovered 10 stolen two wheelers, which include three motorbikes and seven scooters. Four persons have been arrested in this connection.
Informing this, capital police chief M Harsha Vardhan said that all of them hail from Depra village under Tengabari Panchayat in Papum Pare district.
Additionally, four other juveniles have been given police notices for being in possession of a stolen two-wheeler.
The case was cracked by a team of the Capital unit police, which includes SI Nishant, OC Itanagar Bage and SDPO Itanagar Dekio Gumja.
Vardhan said that the success was possible due to enhanced patrolling in Itanagar and adjoining areas.
"Two boys were caught indulging in suspicious activity during night patrolling. During interrogation, it was revealed that they were using stolen bikes and it set the motion to arrest rest of the accused," said the SP, adding, "There is a rising trend of juveniles being involved in cases of vehicle theft, which is very disturbing."
The SP appealed to the citizens to equally remain alert and ensure safety of their vehicles.