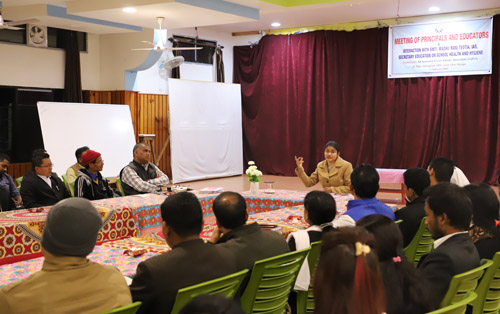 ITANAGAR, Feb 2: Education Secretary Madhu Rani Teotia on Friday said installation of drop boxes should be made mandatory in all government and private schools, as they would help children to effectively communicate incidences of harassment of any kind to Childline authorities.
She said this during a meeting of principals and educators on 'school health and hygiene', which was held at the Don Bosco Youth Centre (DBYC) here.
The meeting, an initiative of the All Arunachal Private Schools' Association (AAPSA), was attended by 59 principals and educators from various private schools of the capital complex and Doimukh. It was aimed at reviewing the health parameters of private schools, and at setting new benchmarks of health and hygiene in schools.
Teotia briefed the principals on some of the latest modifications the government has come up with in the field of education in the state, and
also stressed the necessity to register each and every school in the state with the education department, and to renew their registration periodically.
Speaking on the Right to Education Act (RTE), she said, "The RTE emphasizes the policy of no homework for children up to Class 2, and that the weight of the schoolbags for children should not exceed 10% of the bodyweight of the child," she said.
The education secretary assured all possible support to Childline and its activities.
DBYC director Fr Cyriac in his address stressed on the need to "become more sensitive while developing school infrastructure according to the needs of children, especially the girl children," and added that private schools must set greater standards of health, hygiene and safety while taking care of educational excellence.
Later, Benny Abraham and Shilju Isaac from Kerala-based Absolute Health Care Solutions presented a demonstration on sanitary vending machine and incinerator.
There was also a presentation by Childline coordinator L Elizabeth on drop boxes for schools.
AAPSA secretary Levi E Katy also spoke.