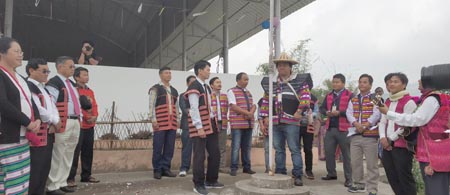 JOLLANG, Feb 11: The Mishmi community residing in the capital complex celebrated Reh-Tamladu festival at the Mishmi Culture Heritage Centre here on Sunday.
Prominent figures of the Mishmi community, including former MP Laeta Umbrey, Sports Minister Dr Mohesh Chai, MLA Dasanglu Pul, Arunachal Pradesh State Commission for Women Chairperson Radhelu Chai Techi, Joint SSB Secretary Tamune Miso, Gazeteers Director Sokhep Kri, and others.
Speaking on the occasion, Dr Chai and Umbrey stressed the importance of speaking one's mother tongue and the relevance of implementing Mishmi as third language in the schools in Mishmi majority areas.
Pul praised the hardworking Mishmi women, particularly in the field of handicrafts, and encouraged them to continue to practice it.
Mishmi Welfare Society chairman Dr Mika Umpo highlighted the rich culture and traditions of the Mishmi community, and recollected historical records dating back to the reign of Ahom king Siu-ting-pha or Naria Raja (1644-1648), and the Ahom-Mishmi Peace Treaty of 1687 which has been memorialized in the form of the Sadiya snake pillar.
He called upon the members of the community to stand united and uphold their rich cultural heritage.
Various cultural programmes and sports events were organized as part of the celebration.