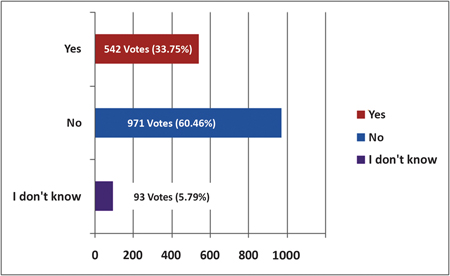 Comments from readers: –
1. It is an open secret that the promises made during the election period are only to lure the voters. After winning the election, the MLAs do the rest as per his will. He will definitely misuse the public money and people are not going to get the benefit as expected in terms of personal benefit or overall development in the constituency.
2. Absolutely Big No. Let us be a responsible voter this time. Time has come to elect the right & genuine leader, so that we are led by the right person.
3. Being a citizen, it's our responsibility to use our adult franchise in better and fair manner, without influence by any means.
4. Of course! Why not? When our leaders are going to be millionaires after being elected why not we voters at least loot them (leaders) in exchange of our votes.
5. My vote is not for money, it's for deserving candidate.
6. Till date we are directly or indirectly receiving some kind of personal benefit from contesting candidate, but the consequences we have suffered is irreparable. Therefore, this time, we must vote for overall development.
7. Who cares about the state and its constituent after election? They all indulge in money minting. We have no single leader in AP. Two true leaders AP has seen are dead.
8. Definitely I will take money from corrupt leader. But I will not give vote to that leader.
9. Money culture has ruined us. And if continues to follow the same trend our future is very dark then. It's now or never. We can't wait for the election. Exercise our voting rights this. Choose a good leader and save Arunachal.
10. State Assembly Election is a game of money, alcohol, clan/kinship, and off course contract work and job. Very few constituencies have mature voters. We are witnessing a dynastic politics where power passes to sons, daughters and other family members from father/family members. Adding to this, the rising trend of walkover candidates shows the immaturity of the state's democracy. The Parliamentary election is observed to be less impacted by the above mentioned factors primarily due to larger voter base and multiplicity of societies spread in a larger geographical area.
11. I will vote for prosperity and development of the state.
12. I will take money but will vote for only the deserving one.
13. Chance pe dance karlo! Remaining 5 years we have to live like a mango man.
14. Money culture in election should completely be banned. Also elected unopposed should be discouraged permanently. Every constituency must have 2-3 candidates for the coming election to elect the best who can work for the constituency rather than ending up making money for its own family.
15. I'll sure accept the money if offered from both sides. But the end vote will surely be of my choice. Totally unbiased!
16. I will give my vote in exchange of money for the upcoming state and parliamentary elections
17. You cannot expect good governance if you cast your vote by taking money. We need to change our mindset of taking money in election, as our birth right for more developmental activities, accountability. If elected representatives do not perform up to expectations, we can replace him/her in every five years. Why keep our self like bonded labour by taking money in election?
18. This time public are more wise and understanding. It will be hard for the politician to capture our vote by money.
19. 100% voters of Arunachal vote for money, contract works and government jobs and on assurance of government job, contract work from leaders. No vote is free-of-cost
20. We need better education, roadways, health etc. Say no to money culture and choose the right candidate. Kick out the corrupt leader.
21. But most of our leaders and their workers forget development and work only to fill their and their family members' pockets. They give backdoor job to either their influential workers family members or by taking bribe. If this trend continues, then there is no harm in taking money from them at election time.
22. After election, no politician wants to hear public concerns and grievances. They only try or help themselves and their near and dear ones. Politicians indulge in corruption and earn money for next election. What is the importance and value of our votes?
23. If they offer me cash I will accept it. But not sure of my vote for that particular candidate. Enjoy voting!
24. I will not and never have voted for money.
25. I am in late 30s now and going to vote for the 4th time in Parliamentary and Assembly elections, and 2nd time in municipal elections, but have not even taken a penny from anyone. I vote as I wish to see the candidate win, who seems to have some thoughts like that of mine, irrespective of his/her party affiliation. Everyone should vote for free. How could you hurl allegations/accuse/scold the representatives afterwards even if they don't do developmental activities, if you have already sold yourself for a few bucks during election?