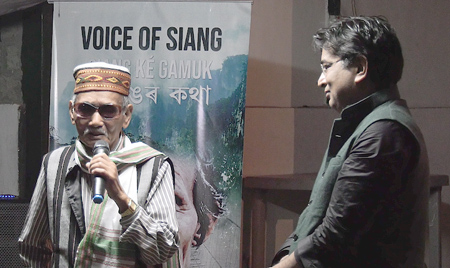 GUWAHATI/PASIGHAT, Feb 16: A documentary film, Voice of Siang, by filmmaker Joor Baruah was premiered at the town club in Guwahati, Assam, on Saturday.
Earlier, the film was premiered at the community hall in Rani village near Pasighat in East Siang district on 12 February.
The documentary is about the indigenous Adi people and their unique culture, tradition and identity. Informed by encounters with Adi people from Pasighat, and through interactions with individuals like Oshang Ering (social activist), Kalim Borang (writer, poet, activist), Tongam Rina (journalist), Nani Bath (political analyst) and Pradip Bhuyan (environmental activist), the film explores the impact of the land (territorial interest of China), water (mega dams on the Tsangpo as well as the Siang), and modernity on the Adi way of life.
The Pasighat screening was attended by, among others, social activist and Adi elder Oshang Ering, villagers, gaon burahs, and people related to Adi art and culture.
The 56-minute feature-length documentary had been commissioned to Baruah as part of a fellowship by the union information & broadcasting ministry's Public Service Broadcasting Trust.
The Guwahati screening was accompanied by talks by anthropologist, ethnographer and writer Dr Jeuti Baruah, and entrepreneur, publisher and geopolitical enthusiast Bhaskar Dutta Baruah. It was also attended by social activist and environmentalist Pradip Bhuyan and internationally renowned writer, poet and activist Tenzin Tsundue.
Joor Baruah shares his time between California and Assam. He has a masters in filmmaking from the University of California, USA. His 20-minute thesis film as a part of his masters degree, Adi I At The Confluence, has been screened at over 40 film festivals in 10 countries, and in three languages, besides being nominated for 18 awards and winning 10 'best documentary' awards.