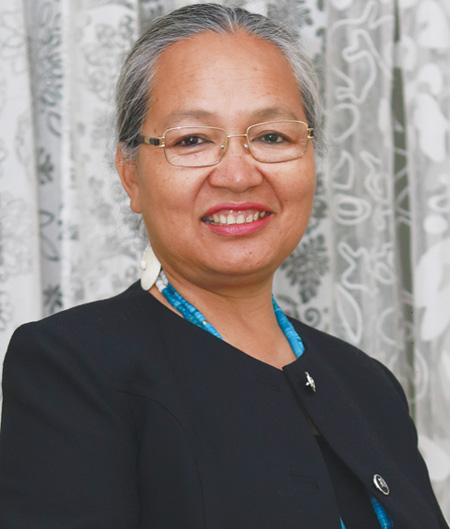 woven lives
[ Tongam Rina ]
"Instead of the high walls, there should have been more toilets," Jarjum Ete said while meeting the young students at the girls' hostel of JN College in Pasighat.
I vividly recall that evening in 1997 because that was the first time someone actually spoke about the need for toilets. There were some 90 students in one block with just three toilets, broken and leaking with very limited water supply.
That was the first time I met Jarjum Ete, who had come to the college with a team of the Arunachal Pradesh Women's Welfare Society (APWWS) to organize an event.
A one-time businesswoman who ran a printing press, Jarjum has been at the forefront of women's and children's rights movement in the state.
While still in her early 20s, Jarjum Ete joined the APWWS, then a small Itanagar-based organization, in 1985, and helped establish its statewide network. Today the tribal women's organization has reached almost all the districts and remains a force that has been relentlessly pursuing the rights of the women and children in the state.
As part of the organization, she led the campaigns for establishment of the Arunachal Pradesh State Commission for Women (APSCW), for implementation of women's reservation in the PRIs in the tribal state, for gendered review of the anti-women and anti-children traditional practices, and for codification of the modified tribal customary laws in Arunachal Pradesh to protect the identities, rights and institutions of the tribal communities of the state.
She has also been the chairperson of the first APSCW, and has been in various central government committees, including for implementation of the Forest Rights Act, and the National Commission for Women.
For more than three decades, Jarjum has been advocating women's and children's rights, a safer environment, and the rights of the tribals to the natural resources.
Born in Aalo in West Siang district, Jarjum got married to technocrat Tomi Ete in 1980, soon after passing Class 10 from Ramakrishna Mission School. As was the prevalent practice those days, her parents had arranged the marriage when she was just 17.
Four children later and juggling various social works, she went on to do her post graduation in English literature from Arunachal University (now Rajiv Gandhi University) in 1995.
A social media savvy person, she engages young crowds and is a sought-after speaker. She does not shy away from talking about relevant issues. While speaking at an event in Itanagar, she spoke out for the rights of the LBGTQI, a community which is not even acknowledged in the state.
Breaking every glass ceiling in patriarchal Arunachal, Jarjum is an epitome of perseverance and versatility, and she is not going to take a break any time soon.
Today, as she embarks on a political journey, she continues to work with various organisations as a mentor, and her ability to listen to people and instantly connect is a quality not gifted to everyone.
Even as we conducted an interview, there was a constant flow of people to her home in Itanagar, and numerous phone calls.
She attended to each one of them, while directing the workers to get warm water and coffee for the visitors as her companion of almost 40 years, Tomi Ete, who is her biggest supporter and cheerleader, with their two-year-old grandchild ushered in more people.
Jarjum's ability to focus on the issue in hand makes her an indomitable leader. Unlike many other activists and leaders, Jarjum is a patient listener to those who disagree with her views. She is unlikely to shut you up or refuse to engage with you just because you disagree.
"There is bound to be differences in opinion, but we can at least talk and listen to each other's concerns," says the woman who has refused to toe the conventional lines, inspiring generations of young people to speak up and to take up leadership roles in every sphere of their lives.
'Opportunity for Congress to promote women's leadership'
In 2003-2004, when the state was going through a politically tumultuous period and when politicians were deserting the Congress party for the BJP, Jarjum Ete took primary membership of the Indian National Congress (INC).
Why did she choose a party which was a sinking ship back then?
"The Congress' secular values," says Jarjum, who is currently the general secretary of the All India Mahila Congress (AIMC) in charge of Sikkim and Nagaland.
"For a plural India, the Congress' secular values are crucial," she says.
Fifteen years after becoming an active Congress member, Jarjum is now seeking the INC's ticket for the Arunachal West constituency seat in the upcoming election. The constituency is currently being represented by Kiren Rijiju.
"I submitted a plain paper application to the state party chief, Takam Sanjoy, in October last year, seeking Congress nomination for the parliamentary seat," she says.
Since then, she has been travelling across the constituency, sometimes trekking for days together to reach the inaccessible areas.
Jarjum had sought to be the party's candidate in 2004, and again in the 2009 election.
"I missed the bus both times," she laughs, adding that this time she has got the go-ahead from former chief minister Nabam Tuki and party chief Sanjoy.
Interestingly, she says that the BJP had in 2013 asked her to join the party with an offer of a parliamentary seat. She declined. "As a human rights person, I have ideological differences with the party," she says.
For long, Jarjum has been a campaigner for clean elections, so I asked her if the INC, which is notorious for seeking funds from intending candidates, would actually hand out nominations without monetary contribution.
"It is an opportunity for the Congress to promote women's leadership in the party by nominating me," Jarjum says.
The party is a proponent of 33% reservation for women in the state legislative assemblies and the parliament. INC president Rahul Gandhi has already written to the states ruled by the Congress to pass a resolution seeking one-third reservation for women in the Lok Sabha and the legislative assemblies.
As Jarjum is set to embark on yet another tour of the villages, I asked her what are the concerns of the people.
"There is massive problem of youth unemployment in the state, and there is an urgent need for self-employment opportunities and skill development.
As the state embarks on infrastructure development, it is necessary that locals are trained and involved, so that they find opportunities even when these projects are tendered," she says.
She finds faults in the current skill development programme being implemented in the state. "Skill development should be contextualized with local needs," she says. "The youths have to take over the economy of the state, and the state needs to provide them opportunities."
Jarjum also says that rural-urban migration in search of livelihood options is a huge problem in the state.
"Some people have sold their land, so that their younger ones can stay in towns with better facilities," she says.
Jarjum also says that tourism festivals in the state have not been able to involve the locals. "All they are left with is garbage," she says.
With elections a few weeks away, Jarjum clearly is saying all the right things and picking up the right issues. Whether that will translate into votes remains to be seen. For the moment, she awaits the Congress' nomination. She is one of five candidates seeking nomination.