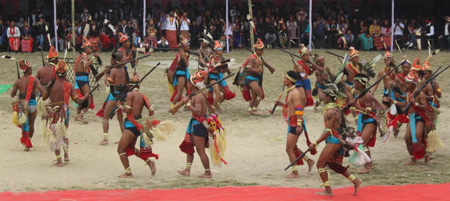 SENKI PARK, Feb 16: The Wancho community residing in the capital complex celebrated their agricultural festival, Oriah, in a befitting manner here on Saturday.
Attending the celebration, Itanagar MLA Techi Kaso commended the Wanchos for maintaining their tradition and culture.
"Arunachal Pradesh has many festivals, and most of them are related to agriculture. Each festival has a meaning as the people pray for a bumper harvest, peace and prosperity," he said.
Stating that traditions, dialects and dresses are the identities of various tribes, the MLA advised the community, especially its youths, to uphold their tradition and dialect.
Kaso also invited the Wancho community to join the Nyokum Yullo celebration with the Nyishi community.
Capital Complex DC Prince Dawan, who also attended the festivity, lauded the hardworking nature of the Wanchos, and advised them to uphold their culture. He also wished the community peace and happiness.
Wancho warrior dance, bamboo dance and other cultural presentations were the highlights of the festival.
Celebration committee general secretary Wangpon and DTO Chakpa Wangso were among those who participated in the festivity.